Saturday, November 21, 2020 - 12:00pm
Get your loved ones the perfect gift and celebrate a little bit of colorado history. Join John Fielder and Jeri Norgren for a book signing to celebreate the release of their new book "Colorado's Highest: The History of Naming the 14,000-Foot Peaks."
John and Jeri will be on site from 12:00pm to 2:00pm to sign books and chat with customers! Please note that masks and social distancing are required at all times.
Author Jeri Norgren has written fascinating text about just how the names were chosen for the 58 highest mountains in Colorado. Through extensive research of the early days of mining in Colorado, and the voluminous records of the Hayden Surveys of Colorado in the 1870s, Norgren has written what may prove to be a classic Colorado history book. But it's not only words, it's Fielder's photographs of the fourteeners, many never before published, Robert L. Wogrin's sublime oil paintings and sketches, and the historical sketches made in the 1870s by the artists of the Hayden Survey. These men climbed the peaks and sketched the mountains from on high.
John Fielder is Colorado's best-known nature photographer, publisher, teacher and preservationist with 51 exhibit-format books and guidebooks to his credit, including John Fielder's Best of Colorado and Colorado 1870-2000. He is also the recipient of numerous awards, including the Sierra Club's Ansel Adams Award for Conservation Photography (1993) and the Aldo Leopold Foundation's first ever Achievement Award (2011). John Fielder's photography has influenced people and legislation, and he has worked tirelessly to promote the protection of Colorado's open space and wildlands.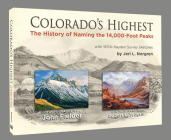 $45.00
ISBN: 9781734442922
Availability: On Our Shelves Now
Published: John Fielder Publishing - September 15th, 2020
---