Saturday, June 19, 2021 - 12:00pm
Come celebrate a little bit of colorado history! Join John Fielder and Jeri Norgren for a book signing to celebreate the release of their newest book "Colorado's Highest: The History of Naming the 14,000-Foot Peaks."
Author Jeri Norgren has written fascinating text about just how the names were chosen for the 58 highest mountains in Colorado. Through extensive research of the early days of mining in Colorado, and the voluminous records of the Hayden Surveys of Colorado in the 1870s, Norgren has written what may prove to be a classic Colorado history book. But it's not only words, it's Fielder's photographs of the fourteeners, many never before published, Robert L. Wogrin's sublime oil paintings and sketches, and the historical sketches made in the 1870s by the artists of the Hayden Survey. These men climbed the peaks and sketched the mountains from on high.
John and Jeri will be on site from 12:00pm to 2:00pm to sign books and chat with customers! Please note that masks and social distancing are required at all times.
Jeri L. Norgren is a fifth generation Colorado native. Having spent most of her life exploring the mountains and all the wonders they hold, she became fascinated with the nomenclature of the highest peaks and began her journey. As a member of the Denver Fortnightly Club, she has authored numerous papers on various topics, including one that grew into this book. A lover of nature and everything it beholds, she lives on a historic farm in Englewood surrounded by dogs, coyotes and a pair of great horned owls.
John Fielder has worked tirelessly to promote the protection of Colorado's ranches, open space, and wildlands during his 40-year career as a nature photographer and publisher. His photography has influenced people and legislation and has earned him recognition including the 1993 Sierra Club Ansel Adams Award, in 2011 the Aldo Leopold Foundation's first Achievement Award ever given to an individual, and in 2017 Colorado Mountain College presented him an Honorary Degree in Sustainability Studies. 51 books have been published depicting his Colorado photography. He teaches photography workshops to adults and children, and his latest books are and John Fielder in Focus and Colorado's Highest: The History of Naming the 14,000-Foot Peaks. He lives in Summit County, Colorado. Information about John and his work can be found at johnfielder.com.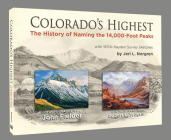 $45.00

ISBN: 9781734442922
Availability: On Our Shelves Now
Published: John Fielder Publishing - March 1st, 2021
---