Book Signing and Meet and Greet with Bud Knapp
Saturday, December 15, 2018 - 10:00am
Join us for a free meet and greet opportunity with Bud Knapp author of Living Beneath the Colorado Peaks: The Story of Knapp Ranch. The book details the journey of one couple's pursuit of a dream to live in a remote valley in the Rocky Mountains.
It's the story of discovery, observation, fulfillment and self-sufficiency, and the many lessons learned throughout the process. In the 1990s, Betsy and Bud Knapp, the original owners of Architectural Digest and Bon Appétit magazines, left the competitive, fast-paced world of publishing to pursue a lifelong dream. Settling in the Lake Creek Valley near Vail, Colorado, the Knapp's began the process of designing and crafting a casual mountain retreat to share with family, friends and ultimately to be used as an educational center for multi-disciplinary groups.
Readers will learn how the Knapp's methodically studied their land, and learned from architects and designers, local builders and craftsmen, landscape architects, ecologists and water managers about how to best live in a remote mountain valley at 9,000 feet. Delving into the geologic and cultural history of the region and its influence on the architecture and interior design of the magnificent complex of buildings, the book covers a range of subjects that will be helpful to readers. Twenty-five years in the making, Knapp Ranch is now a thriving working farm using sustainable practices; it is an exemplar for land management and water conservation, an inspiration for architectural design and traditional craftsmanship, a contributor to climate science studies, a lab for horticultural experimentation, a US Forest Service partner, an educational center for environmental studies of all kinds and it continues to evolve. Encouraged by friends and professionals to document their story and share both their journey and knowledge with others, the result is Living Beneath the Colorado Peaks: The Story of Knapp Ranch.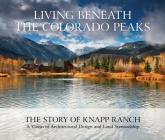 $70.00
ISBN: 9781423650966
Availability: On Our Shelves Now
Published: GS - September 11th, 2018
---