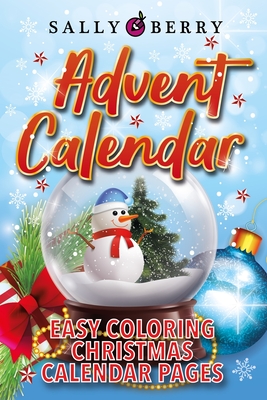 $5.99
Email or call for price.
Description
---
Is the period from 1st December to Christmas very special for you?
The Sally Berry Advent Calendar Coloring Book will provide stress-free moments every day
These ready-to-color pages have been drawn by an independent artist (no stock from internet ) and include Christmas theme objects and scenes with the count down numbers until December 25th.
The Advent Calendar from Sally Berry has been prepared with the help of an expert psychologist who gave his advice to include illustrations that can bring serenity and peace. If you want easy and simple coloring pages to color every day, you will love this book.
Why This is a Great Choice
Each coloring page is printed on a separate page with a full black page on the back to help to avoid bleed through
White paper suitable for coloring pencils, coloring pastels, markers, gel pens, brush pens, fine liners, water colors
25 Unique Large Images, welcome to creativity and relaxation
Small Pocket Size 6 x 9" (15 x 23 cm) format, professional quality designs from independent artist
You will not find these designs anywhere else. Single sided pages allow you to remove the finished artwork for framing or to use as you please.

This coloring book makes a fantastic and beautiful gift idea for children, toddlers, seniors or beginners
.
About Sally Berry
New approach to coloring book publishing. Sally Berry has a fresh approach for your coloring adventure:
no stock images from internet
support to independent artists
creativity first
Help us Growing. Sally Berry will publish more and more books with your help. Support us buying this coloring book and you will get many more soon.
Sharing. Sally Berry online community is waiting for you At the last page of this book you will get the instructions (and a gift ) how to join us.

Scroll to the top of this page and click the
Buy Now
button.
Do you know someone who enjoy coloring? A coloring book is a great gift
Buy now and have the gifts for your special occasions ready in advance.