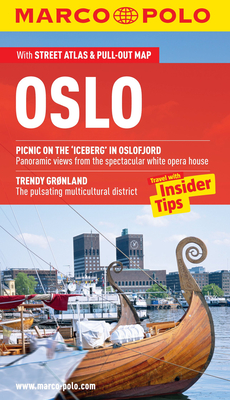 $9.99
Email or call for price.
Description
---
MARCO POLO Oslo: the Travel Guide with Insider TipsFully revised and updated and now with new Discovery Tours chapter. With this up-to-date, authoritative guide you can experience all the sights and Best Of recommendations for Oslo. Discover fabulous hotels, traditional restaurants, trendy places and entertainment venues. You'll also pick up tips on shopping, what to do on a limited budget, ideas for travel with kids and an overview of exciting festivals and events in the Norwegian capital. Also contains: Travel Tips, Links, Blogs, Apps & More, Useful Phrases in Norwegian and index. Norway's only major city can hardly be considered a metropolis. There's not a trace of hustle and bustle here. The people of Oslo themselves and the idyllic location in the Fjord and Fjell region set the pulse of the city. With MARCO POLO Oslo you'll discover a major city, but not a metropolis. With this practical travel guide, small enough to slip into your pocket, you can get to know a compact city, framed by forests and fjords. When you visit Oslo, it's a question of encountering contrasts over a very small area, an awareness of tradition and European modernity, a love of nature and the visions of a major city, wooden cabins and forward-looking architecture. Get to grips with the green coldness of the north, the warmth and openness of which only become apparent at second glance. In Oslo you'll find cultural experiences instead of shopping miles, nature instead of an expanse of high-rise buildings. Think major city and feel countryside: that's Oslo MARCO POLO Oslo's Insider Tips tell you where you can observe the sunset reflected in the facades of the houses opposite; where you can marvel at the link between animal and man; and where you can buy lots of fish with lots of nostalgia. The Discovery Tours will escort you through the city in which you'll be able get to know Oslo's various features quickly and easily: from breakfast with caf latte and a view of the Royal Palace; to a visit to Vigeland Park with its monumental sculptures and a ride up the breathtaking Holmenkollen Ski Jump; and to a hearty Norwegian evening meal in the lively Gr nland quarter. The Best Of pages show you what's unique to Oslo as well as great places for free and lots of ideas for rainy days. The tips on what to do on a limited budget in each chapter show how you can experience a great deal with very little money, enjoy something special and snap up some real bargains. Whether it's the history of industry, shipping or sport: in Oslo tracking something down is always connected to an experience of nature. The MARCO POLO Walking Tours take you, for example, along Oslo's lifeline, the river Akerselva, with the promise of a pleasant day on the Bygd y museum island. The Dos and Don'ts advise you why its best not even to try to haggle, and why you should give the Norwegian railways a wide berth. MARCO POLO Oslo gives comprehensive coverage all the city's districts. To help you find your way around there's a detailed street atlas and practical map inside the back cover, with public transport map and removable pull-out map.
About the Author
---
Marco Polo Travel Publishing offers a wide range of high quality cartographic products and travel guides. Marco Polo Pocket Guides are known for their handy, compact format and Insider Tips. Our Travel Handbooks are the first to include infographics and our Spiral Guides feature unique lay-flat spiral binding. Marco Polo Maps are famous for the high quality of cartography in their Country, City and Holiday Maps.