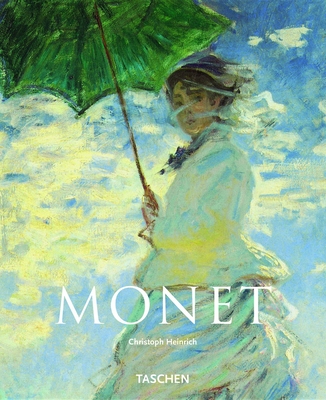 $9.99
Email or call for price.
Description
---
Impressionism's founding father
Claude Monet (1840-1926), the most individual Impressionist painter, dedicated his long life to a pictorial exploration of the sensations which reality, and in particular landscape, offers the human eye. In his endeavor to capture the ever-changing face of reality, Monet went beyond Impressionism and thereby beyond the confines of self-contained panel painting: in Giverny he painted the Poplars, Grain Stacks and Rouen Cathedral series in which he addressed one motif in constantly new variations. Here, too, Monet laid out the famous garden with its water-lily pond which he was to paint on huge canvases well into the 1920s. He thereby sought to render not reality as objectively experienced, but rather that which takes place "between the motif and the artist." In their open, merely tenuously representational structure and impressive scale, Monet's water lily paintings--created long before the currents of the contemporary avant-garde--point the way to the developments of the future.
About the Series:
Each book in TASCHEN's Basic Art series features:
a detailed chronological summary of the life and oeuvre of the artist, covering his or her cultural and historical importance
a concise biography
approximately 100 illustrations with explanatory captions
About the Author
---
Christoph Heinrich studied art history, theater, and German in Vienna and Munich, receiving his doctorate for his work on the changing concept of the monument in contemporary art. Since 1994, he has been employed at the Hamburger Kunsthalle, where he was appointed curator of the Galerie der Gegenwart in 1997. He is the author of numerous writings, and has organzied many exhibits on 20th-century and contemporary art.