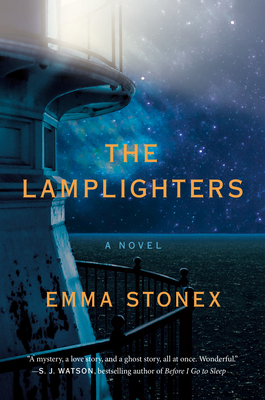 Staff Reviews
---
Be ready to be riveted…burn some late midnight lamp oil…and dive into a murky, literary mystery! What initially attracted me to this novel is the Author's note at the outset…
In December 1900, three lighthouse keepers disappeared from a remote rock light on the island of Eileana Mor in the Outer Hebrides. Their names were Thomas Marshall, James Ducat, and Donald MacArthur. THE LAMPLIGHTERS is inspired by, and written in, respectful memory of this event…
A "literary fiction" label, the story's historical derivation, and the realistic, isolated Hebrides lighthouse setting provided enough hooks to draw me into this memorable read. Stonex weaves an intricate storyline and believable, complex characters including Arthur (Principal Keeper), Bill (Assistant Keeper) and Vince (ex-con and Supernumerary Assistant Keeper). Three women also play a key role; Helen (Arthur's "estranged" but still-loyal wife). (Jenny, Bill's devoted, subservient wife); and Michelle (Vinny's "savior" and romantic confidante).
They all have deep secrets which are slowly revealed as the novel develops. Arthur's guilt and grief over the death of his young son; Bill's infatuation with Helen; Helen's brief and regrettable affair with Bill; Vinny's shady past and hopes for a bright future with Michelle; and the Maiden Rock Lighthouse itself, a stark tower rising from the ocean 15 miles southwest of the nearest point, Lands End. Perhaps the lonely lighthouse is the most impenetrable and forbidding character, overlooking the broiling sea and dangerous black rocks at its base and witness to shipwrecks and rescues of the past.
As Stonex's story goes, on New Years Eve 1972, a boat pulls up to Maiden Rock with scheduled "relief" for the keepers. No one greets the boat, as is customary, and the lighthouse door is locked from the inside. Once rescuers break in expecting to find bodies or a gruesome tragedy, they only discover a current weather log, an uneaten meal with the table set, and all of the clocks stopped at 8:45. No trace of the men or any foul play.
Subsequent chapters revolve over 20 years between 1972 and 1992 while the mystery of the men's disappearance remains unsolved. Although the women each move forward with their lives, the fate of their mates lurks as a dark, inescapable memory. Only the relentless efforts of a persistent journalist keeps the investigation going until, finally, the reader learns the truth about the demise of the lamplighters.
Lighthouse lore, murder mystique, regret and redemption, love and loyalty, Scottish/Cornish scenery…Emma Stonex serves it up for us in this wonderful read. It's a keeper.
Sandy Ferguson Fuller
— From
What Sandy is Reading
Description
---
"Transported me effortlessly…Haunting, harrowing and heartbreaking, this is a novel that will stay with you." --Ashley Audrain, New York Times bestselling author of The Push

"A ghost story and fantastically gripping psychological investigation rolled into one. It is also a pitch-perfect piece of writing. . . . As with Shirley Jackson's work or Sarah Waters's masterpiece Affinity, in Stonex's hands the unspoken, unexamined, unseen world we can call the supernatural, a world fed by repression and lies, becomes terrifyingly tangible." --The Guardian (UK)
 
Inspired by a haunting true story, a gorgeous and atmospheric novel about the mysterious disappearance of three lighthouse keepers from a remote tower miles from the Cornish coast--and about the wives who were left behind.

What strange fate befell these doomed men? The heavy sea whispers their names. Black rocks roll beneath the surface, drowning ghosts. And out of the swell like a finger of light, the salt-scratched tower stands lonely and magnificent.

It's New Year's Eve, 1972, when a boat pulls up to the Maiden Rock lighthouse with relief for the keepers. But no one greets them. When the entrance door, locked from the inside, is battered down, rescuers find an empty tower. A table is laid for a meal not eaten. The Principal Keeper's weather log describes a storm raging round the tower, but the skies have been clear all week. And the clocks have all stopped at 8:45.

Two decades later, the wives who were left behind are visited by a writer who is determined to find the truth about the men's disappearance. Moving between the women's stories and the men's last weeks together in the lighthouse, long-held secrets surface and truths twist into lies as we piece together what happened, why, and who to believe.

In her riveting and suspenseful novel, Emma Stonex writes a story of isolation and obsession, of reality and illusion, and of what it takes to keep the light burning when all else is swallowed by dark.
About the Author
---
Emma Stonex is a novelist and The Lamplighters is her debut under her own name; she is the author of several books written under a pseudonym. Before becoming a writer, she worked as an editor at a major publishing house. She lives in Bristol with her husband and two young daughters.
Praise For…
---
"Superbly accomplished…The Lamplighters is a whodunnit, horror novel, ghost story and fantastically gripping psychological investigation rolled into one. It is also a pitch-perfect piece of writing." --The Guardian (UK)

"Wonderfully smart and atmospheric." --Observer

"The Lamplighters is a tale with teeth, serrated like a shark's. Once it's got a hold of you, it doesn't let go. This is a haunting mystery where the unsaid words, the unshared emotions, and the unfulfilled lives reverberate across the decades not unlike the ghosts rumored to haunt the tower lighthouse. And whether you prefer an atmospheric sea-set mystery or an unsettling story of madness and the mythic, this is a book that's sure to satisfy." —Criminal Element
 
"Emma Stonex has written a gorgeous page-turner that is at once a mystery and a novel about mysteries--about how we all write our own endings and suffer betrayals, but still light the lamps so the people we love can find their way home." --Charlotte Rogan, The Lifeboat

"Beautiful, absorbing and utterly riveting, The Lamplighters is a hymn to loneliness, to the sea, and to the stories we allow ourselves to believe when we are alone. I treasured every moment of this dazzlingly accomplished and completely unforgettable novel." --Rosie Walsh, author of Ghosted

"A remarkable book, through every page, every character, the writing resonates with the dark, powerful presence of the sea." --Raynor Winn, author of The Salt Path

"Transported me effortlessly…Haunting, harrowing and heartbreaking, this is a novel that will stay with you." --Ashley Audrain, author of The Push

"A beautifully written, utterly compelling tale." --Jenny Colgan, Sunday Times bestselling author of The Bookshop on the Corner

"Stonex's unique tale juxtaposes oddly compelling reality—the daily challenges of being a lighthouse keeper for the men and their families—against a series of strange, poignant, near-mystical happenings that will pull readers in and keep them mesmerized right to the end." --Booklist

"Stonex's spectacular debut wraps a haunting mystery in precise, starkly beautiful prose…Seamlessly marrying quotidian detail with ghostly touches, the author captures both the lighthouse's lure and the damage its isolation and confinement wreak on minds and families. The convincing resolution brings a welcome note of healing. Readers will eagerly await Stonex's next." --Publisher's Weekly, starred review