The Beekeeper of Aleppo: A Novel (Hardcover)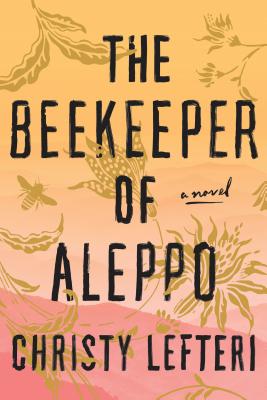 Staff Reviews
---
My favorite literary book of the year! A timely story of a Syrian refugee and his blind wife determined to get to England. Beautiful writing with a reveal I didn't see coming. If you liked Exit West or Life of Pi, pick up The Beekeeper of Aleppo.
— From
What Nicole is reading
This immigrant tale tells the love story of a Syrian husband and wife who take the Syrian refugee trail to Europe. It's about resilency and the power of the human spirit. Beautifully written with a rich vocabulary, I loved this book!
— From
What Susan is Reading
Amazing rendering of a journey to asylum after tragic loss. This is beautifully written with flashbacks and dreams; I found the connection between chapters wonderful and very effective. Nuri is navigating passage to England with his injured wife but slowly I realized his wounds are deep as well. Good if You Liked The Life of Pi. Very moving!
— From
What Karin is Reading
The 2020 Aspen Words Literary Prize Winner. This novel is impossible to forget. A loving family's life in Aleppo, Syria is blown apart by the cruelties of war. Nuri, a beekeeper and his wife Afra, an artist, suffer the unimaginable and embark on a long arduous refugee journey, from Syria to Turkey to Greece and onward to England. This story is told in magical writing, literary, yet intensely focuses on a family's wounds and how memory and imagination sustain them as they precariously hold on to what they love.
— From
What Lisa is Reading
September 2019 Indie Next List
---
"Provocative and intense, this harrowing story of Syrian war refugees will take you on an emotional journey. This book took me well beyond the headlines and touched my soul. Perhaps its greatest strength is Lefteri's ability to make this unquestionably horrific reality accessible. You will feel an aching need to turn the page, and then you'll need to share this novel with others. I look forward to putting it into the hands of many readers — we need to see beyond the headlines."
— Kirsten Hess, Let's Play Books!, Emmaus, PA
Description
---
This unforgettable novel puts human faces on the Syrian war with the immigrant story of a beekeeper, his wife, and the triumph of spirit when the world becomes unrecognizable.

"A beautifully crafted novel of international significance that has the capacity to have us open our eyes and see."—Heather Morris, author of The Tattooist of Auschwitz

WINNER OF THE ASPEN WORDS LITERARY PRIZE • NAMED ONE OF THE BEST BOOKS OF THE YEAR BY REAL SIMPLE

Nuri is a beekeeper and Afra, his wife, is an artist. Mornings, Nuri rises early to hear the call to prayer before driving to his hives in the countryside. On weekends, Afra sells her colorful landscape paintings at the open-air market. They live a simple life, rich in family and friends, in the hills of the beautiful Syrian city of Aleppo—until the unthinkable happens. When all they love is destroyed by war, Nuri knows they have no choice except to leave their home. But escaping Syria will be no easy task: Afra has lost her sight, leaving Nuri to navigate her grief as well as a perilous journey through Turkey and Greece toward an uncertain future in Britain.

Nuri is sustained only by the knowledge that waiting for them is his cousin Mustafa, who has started an apiary in Yorkshire and is teaching fellow refugees beekeeping. As Nuri and Afra travel through a broken world, they must confront not only the pain of their own unspeakable loss but dangers that would overwhelm even the bravest souls. Above all, they must make the difficult journey back to each other, a path once so familiar yet rendered foreign by the heartache of displacement.

Moving, intimate, and beautifully written, The Beekeeper of Aleppo is a book for our times: a novel that at once reminds us that the most peaceful and ordinary lives can be utterly upended in unimaginable ways and brings a journey in faraway lands close to home, never to be forgotten.

Praise for The Beekeeper of Aleppo

"This book dips below the deafening headlines, and tells a true story with subtlety and power."—Esther Freud, author of Mr. Mac and Me

"This compelling tale had me gripped with its compassion, its sensual style, and its onward and lively urge for resolution."—Daljit Nagra, author of British Museum

"This novel speaks to so much that is happening in the world today. It's intelligent, thoughtful, and relevant, but very importantly it is accessible. I'm recommending this book to everyone I care about."—Benjamin Zephaniah, author of Refugee Boy
About the Author
---
Brought up in London, Christy Lefteri is the child of Cypriot refugees. She is a lecturer in creative writing at Brunel University. The Beekeeper of Aleppo was born out of her time working as a volunteer at a UNICEF-supported refugee center in Athens. She is the author of the novel A Watermelon, a Fish and a Bible.
Praise For…
---
"[Christy] Lefteri sensitively charts what it's like when war comes home, alert to the subtle effects of trauma and grief. Nuri and Afra are not broadly sketched as victims, but rather suffer in different and complex ways from PTSD. . . . By creating characters with such rich, complex inner lives, Lefteri shows that in order to stretch compassion to millions of people, it helps to begin with one."—Time 

"With the first sentence, we enter a world too visible for the protagonists who can't, nevertheless, turn away. The Beekeeper of Aleppo demands that we contemplate the way we humans process the horror around us, the senseless violence, the loss of what we hold dearest."—Esmeralda Santiago, Aspen Words Literary Prize head judge

"Beekeeper Nuri and his wife, Afra, are devastated by the Syrian civil war. After violence claims their child and Afra's eyesight, the couple is forced to flee Aleppo and make the fraught journey to Britain—and an uncertain future."—USA Today (5 Books Not to Miss)

"In recounting the daily brutality as well as the glimmers of beauty, this novel humanizes the terrifying refugee stories we read about in the news. Lefteri explores questions of trust and portrays what trauma and loss can do to individuals and their relationships. . . . A beautiful rumination on seeing what is right in front of us—both the negative and the positive."—The Boston Globe (Pick of the Week)

"Great for book club . . . a powerful story about the refugee experience, hope, and love."—Real Simple

"Nuri's story rings with authenticity, from the vast, impersonal cruelties of war to the tiny kindnesses that help people survive it. . . . A well-crafted structure and a troubled but engaging narrator power this moving story of Syrian refugees."—Kirkus Reviews (starred review)

"A haunting and resonant story of Syrian war refugees undertaking a treacherous journey . . . Readers will find this deeply affecting for both its psychological intensity and emotional acuity."—Publishers Weekly 

"In fluid, forthright language, Lefteri brings us humbly closer to the refugee experience as beekeeper Nuri and his wife, an artist named Afra who has gone blind form the horrors she's witnessed, escape Aleppo and travel dangerously to Great Britain. . . . There's no overloading the deck with drama; this story tells itself, absorbingly and heartrendingly." —Library Journal