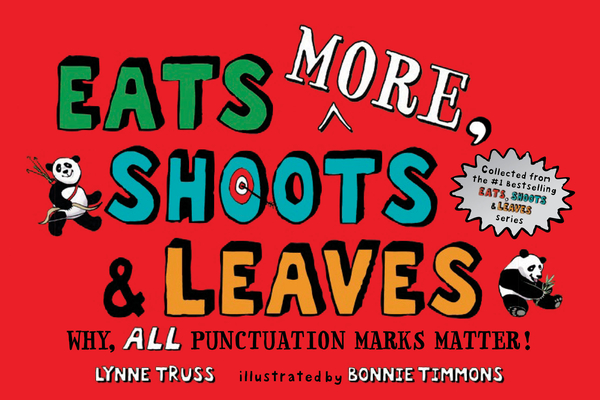 Description
---
A pocket-sized paperback compendium of the hilariously illustrated #1 New York Times bestselling series of books about punctuation.

Lynne Truss and Bonnie Timmons's hilariously re-imagined children's adaptation of Eats, Shoots & Leaves was a wild success when it came out in 2006, spending five weeks at #1 on the New York Times bestseller list. The Girl's Like Spaghetti and Twenty-Odd Ducks followed with equal success, and now all three are combined into a single, helpful volume! As in the original books, clever side-by-side illustrations demonstrate how carefully (or not) placed punctuation marks can completely alter a sentence's meaning. This compendium edition compiles the best parts from the original books into a humorous punctuation primer.
About the Author
---
Lynne Truss is a writer and journalist who started out as a literary editor with a blue pencil and then got sidetracked. The author of three novels and numerous radio comedy dramas, she spent six years as the television critic for The Times of London, followed by four (rather peculiar) years as a sports columnist for the same newspaper. She won Columnist of the Year for her work for Women's Journal. Lynne Truss also hosted Cutting a Dash, a popular BBC Radio 4 series about punctuation. She now reviews books for the Sunday Times of London and is a familiar voice on BBC Radio 4.

Bonnie Timmons is best known for inspiring and creating images for the television show Caroline in the City and illustrating numerous national ad campaigns.