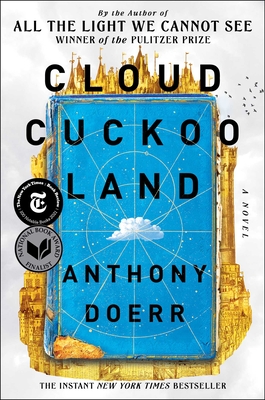 Staff Reviews
---
Doerr gifts us another masterpiece. Five characters from three time frames are connected by an ancient manuscript and their search for a "Utopia in the Sky". The characters become stewards of the book and their actions reverberate through time. Doerr's writing is awe-inspiring and the Odyssey he takes us on is brilliant. This is imaginative, epic in scope and shows the power of stories to connect us. Absolutely marvelous!
— From
What Karin is Reading
Cloud Cuckoo Land is a dream-- a gleaming city in the clouds inhabited by birds, where there is no pain or hardship, where turtles carry stacks of honeycakes on their backs and wine runs down the streets. Aethon, a "dull-witted" shepherd, believes Cloud Cuckoo Land is a real place, and sets out on an epic, metamorphic, and fantastical journey to pass through it's golden gates. This is the plot of the fictional Greek comedy that interweaves five impeccably created characters across hundreds of years: from the fall of Constantinople, to a library in Lakeport, Idaho, and finally to the deck of a spaceship set to populate a new planet after the anthropocentric fall of Earth. While each storyline, on its own, is heartbreaking and heroic in equal turns, what is striking about Doerr's literary achievement is the way they are perfectly woven together, like the thinnest silver strings reaching across space and time. Those thin silver strings are stories: more than mortal, yet immensely delicate. Five characters stand on what feels like the brink of the end of the world, and Cloud Cuckoo Land brings them off the edge, allowing them to "slip the trap" of reality long enough to breathe. It is a miracle that anything survives this world at all: ancient stories, human beings, hope-- and yet, we do survive, we try again, we are willing as Aethon to become a downtrodden donkey, a fish in the belly of a whale, an owl soaring through the cosmos-- all to reach a kinder world than the one we have. This book is a love letter to the power of storytelling, to the responsibility we have to one another and to our earth, and to foolish, earnest hope-- the only kind.
— From
What Caely is Reading
October 2021 Indie Next List
---
"I haven't felt this hopeful after closing a book in a very long time. What does it mean to be alive? An ageless question, yet throughout time the answer is always human connection and the stories we tell to live, thrive, survive."
— Julie Slavinsky, Warwick's, La Jolla, CA
Description
---
On the New York Times bestseller list for over 20 weeks * A New York Times Notable Book * A National Book Award Finalist * Named a Best Book of the Year by Fresh Air, Time, Entertainment Weekly, Associated Press, and many more

"If you're looking for a superb novel, look no further." —The Washington Post

From the Pulitzer Prize–winning author of All the Light We Cannot See, comes the instant New York Times bestseller that is a "wildly inventive, a humane and uplifting book for adults that's infused with the magic of childhood reading experiences" (The New York Times Book Review).

Among the most celebrated and beloved novels of recent times, Cloud Cuckoo Land is a triumph of imagination and compassion, a soaring story about children on the cusp of adulthood in worlds in peril, who find resilience, hope, and a book.

In the 15th century, an orphan named Anna lives inside the formidable walls of Constantinople. She learns to read, and in this ancient city, famous for its libraries, she finds what might be the last copy of a centuries-old book, the story of Aethon, who longs to be turned into a bird so that he can fly to a utopian paradise in the sky. Outside the walls is Omeir, a village boy, conscripted with his beloved oxen into the army that will lay siege to the city. His path and Anna's will cross.

In the present day, in a library in Idaho, octogenarian Zeno rehearses children in a play adaptation of Aethon's story, preserved against all odds through centuries. Tucked among the library shelves is a bomb, planted by a troubled, idealistic teenager, Seymour. This is another siege.

And in a not-so-distant future, on the interstellar ship Argos, Konstance is alone in a vault, copying on scraps of sacking the story of Aethon, told to her by her father.

Anna, Omeir, Seymour, Zeno, and Konstance are dreamers and outsiders whose lives are gloriously intertwined. Doerr's dazzling imagination transports us to worlds so dramatic and immersive that we forget, for a time, our own.
About the Author
---
Anthony Doerr is the author of Cloud Cuckoo Land, which was a finalist for the National Book Award, and All the Light We Cannot See, winner of the Pulitzer Prize, the Carnegie Medal, the Alex Award, and a #1 New York Times bestseller. He is also the author of the story collections Memory Wall and The Shell Collector, the novel About Grace, and the memoir Four Seasons in Rome. He has won five O. Henry Prizes, the Rome Prize, the New York Public Library's Young Lions Award, the National Magazine Award for fiction, a Guggenheim Fellowship, and the Story Prize. Born and raised in Cleveland, Ohio, Doerr lives in Boise, Idaho, with his wife and two sons.
Praise For…
---
Praise for Anthony Doerr and Cloud Cuckoo Land

*WINNER OF THE READING THE WEST BOOK AWARD AND THE OHIOANA BOOK AWARD*

*FINALIST FOR THE NATIONAL BOOK AWARD FOR FICTION*

"Sweeping and atmospheric."
—Time

"A magical (and hopeful) tale of humanity."
—People

"As intimate as a bedtime story, a love letter to libraries and bibliophiles."
—O Magazine

"A dazzling epic of love, war, and the joy of books."
—The Guardian

"A novel of epic stature and ambition."
—Buzzfeed

"[An] intricately braided story . . . [and] a stunning, mind-bending tale of survival and how closely we're all connected."
—Good Housekeeping

"Doerr works literary magic to tell three cleverly entwined stories set centuries apart, celebrating children, and the natural world, and always, especially, libraries. We'll be talking about this one for a long time."
—St. Louis Post-Dispatch

"Packed with lush details and a gripping narrative."
—Keziah Weir, Vanity Fair

"A trip well worth taking with the inimitable Doerr."
—Rob Merrill, Associated Press

"Of all our contemporary fiction writers, Anthony Doerr is the one whose novels seem to be the purest response to the primal request: tell me a story. . . . [Cloud Cuckoo Land] transports us far above the stars, and down into the mud. It dazzles, and disturbs. And I for one wanted Doerr's vast and overwhelming story to last much, much longer."
—Maureen Corrigan, Fresh Air

"Sprawling and ambitious and imaginative. . . . [Doerr] is a writer with the rare ability to achieve the universal and the specific simultaneously. His stories, both vast and intimate, are dazzling, sometimes dizzying in their scope. . . . [Cloud Cuckoo Land] is unlike anything you've ever read."
—Samantha Schoech, San Francisco Chronicle

"Readers will come away from it with a greater appreciation for those invisible qualities that have bound human life across the ages—the love of a good story and the joy of returning home."
—Samantha Spengler, Wired

"There's no book like Cloud Cuckoo Land… the story is mesmerizing, and the carefully-crafted tapestry of themes pulls characters and time periods together into an incandescent whole—tempting the reader to start over as soon as the book is finished."
—Diana Furchtgott-Roth, Forbes

"Doerr's prose casts a spell; his world-building is both defiant and tender, a virtuosic meditation on the alchemy of books. Come for the magician's tricks, stay for the exquisite storytelling."
—Hamilton Cain, Star Tribune

"The greatest joy in [Cloud Cuckoo Land] comes from watching the pieces snap into place. It is an epic of the quietest kind, whispering across 600 years in a voice no louder than a librarian's."
—Jason Sheehan, NPR.org

"Doerr's creation lifts off quickly, soars, and then, like the various wildfowl wheeling through the story, lands with practiced finesse. . . . Fueled by deep imagination and insistent compassion, Doerr weaves together his storylines with brisk pacing that never feels rushed."
—Erin Douglass, Christian Science Monitor

"There is a kind of book a seasoned writer produces after a big success: large-hearted, wide in scope and joyous. Following his Pulitzer winner All the Light We Cannot See, Anthony Doerr's Cloud Cuckoo Land is a deep lungful of fresh air–and a gift of a novel."
—Elizabeth Knox, The Guardian

"In a big fiction year . . . Cloud Cuckoo Land stands out. . . . Doerr's characters are astoundingly resilient, suggesting that we may yet save ourselves, with literature an essential tool."
—Hamilton Cain, Boston Globe