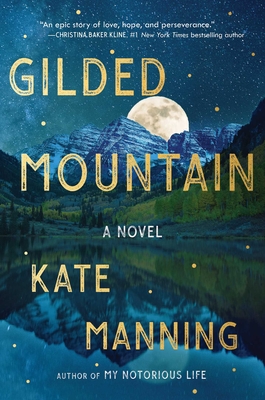 Staff Reviews
---
Full of local history and lore. This is a fictional account of life and times in Marble, CO when wealthy industrial barons exploited workers and built opulent mansions – think Redstone Castle. Sylvie is a young bright girl who steals the show. She learns the hard knocks of life, experiences the realities of class and is surrounded by strong women who help her forge her path. I loved Manning's mix of people and places both real and fictional. Hard to put down!
— From
What Karin is Reading
I loved this book! Sylvie arrives in Moonstone (ie Redstone) Colorado around 1907 with her family so her father can work in the marble mine. The cruelty of the mine bosses and owners is apparent on every page. The miners struggle through long, dangerous hours and cold winters in tents while the mine owners live lavishly in the castle at the bottom of the hill. Splendidly written with grand views of local landscapes and relevant topics (unionizing, women's rights, immigration) for today, this book really caught my attention. Manning incorporates historical events as she describes young Sylvie navigating between the two worlds of the haves and have-nots. Enjoy!
— From
What Amy is Reading
November 2022 Indie Next List
---
"An epic tale! Sylvie Pelletier is the daughter of a mine worker in early 1900's Colorado. She glimpses at how the wealthy owners live and is changed forever. A full-bodied historical novel relatable to today's issues of wage inequality."
— Paula Frank, The Toadstool Bookshop, Nashua, NH
Description
---
A New York Times Editors' Choice from critically acclaimed author Kate Manning, the exhilarating, epic tale of a young woman who bravely faces the consequences of exposing the corrupt practices that enriched her father's employers in early 1900s Colorado.

In a voice spiked with sly humor, Sylvie Pelletier recounts leaving her family's snowbound mountain cabin to work in a manor house for the Padgetts, owners of the marble-mining company that employs her father and dominates the town. Sharp-eyed Sylvie is awed by the luxury around her; fascinated by her employer, the charming "Countess" Inge, and confused by the erratic affections of Jasper, the bookish heir to the family fortune. Her fairy-tale ideas of romance take a dark turn when she realizes the Padgetts' lofty philosophical talk is at odds with the unfair labor practices that have enriched them. Their servants, the Gradys, formerly enslaved people, have long known this to be true and are making plans to form a utopian community on the Colorado prairie.

Outside the manor walls, the town of Moonstone is roiling with discontent. A handsome union organizer, along with labor leader Mary Harris "Mother" Jones, is stirring up the quarry workers. The editor of the local newspaper—a bold woman who takes Sylvie on as an apprentice—is publishing unflattering accounts of the Padgett Company. Sylvie navigates vastly different worlds and struggles to find her way amid conflicting loyalties. When the harsh winter brings tragedy, Sylvie must choose between silence and revenge.

Drawn from true stories of Colorado history, Gilded Mountain is a tale of a bygone American West seized by robber barons and settled by immigrants, and is a story infused with longing—for self-expression and equality, freedom and adventure.
About the Author
---
Kate Manning is the author of the critically acclaimed novels My Notorious Life, Whitegirl, and Gilded Mountain. A former documentary television producer and winner of two Emmy Awards, she has written for The New York Times, The Washington Post, the Los Angeles Times Book Review, Time, Glamour, and The Guardian, among other publications. She has taught creative writing at Bard High School Early College in Manhattan, and lives with her family in New York City.
Praise For…
---
Praise for Gilded Mountain

"Manning's prose is so evocative... The social issues of the novel's time period, including the wealth gap, women's rights and freedom of the press, artfully mirror those in 21st-century America." —Carol Memmott, The Washington Post

"Kate Manning's fat, immersive novel transfixed me... Manning builds her characters' challenges with such empathy, I didn't even realize I was getting a crash course in the history of labor relations... There are views to admire, mysteries to be solved and love stories to escape into... awe-inspiring." —Elizabeth Egan, The New York Times

"Looking for a big historical novel to read by the fire? Manning's novel will scratch your itch... a stellar read from an acclaimed author." —Bethanne Patrick, The Los Angeles Times

"An expansive novel of passions: love, beauty, suffering; struggles for labor rights, women's equality and the rights of formerly enslaved people... it contains romance, historical fiction and inspired, high-minded thinking on important issues, [with] lovely writing about the natural world... a painfully beautiful novel of big ideals, heartbreaks and tragedies, sewn together by an admirable and unforgettable heroine." —Shelf Awareness

"Stellar... Manning shines at giving the era's class, racial, and economic tensions a human face. This is one to savor." —Publishers Weekly, *starred review*

"Manning's bildungsroman not only provides a clear portrait of her young heroine; it captures the intensity of an unsettled time and place in American history." —Kirkus

"The gold at the center of Kate Manning's remarkably panoramic and meticulously researched new novel is one indomitable Sylvie Pelletier—an adventurer, a romantic, a crackerjack observer of worlds and hearts. Gilded Mountain is that rare thing: a historical page-turner that nimbly moves from gritty mining shafts to elegant drawing rooms of an earlier America with all its seething and striving, and where—then, as now—fates are decided by a stroke of luck or unluck, kindness and corruption, and reinvention." —Carol Edgarian, author of Vera

"Kate Manning is a master storyteller. Gilded Mountain is so immersive, so richly imagined, that reading it feels akin to time travel. Manning writes historical sagas like no one else; the dreamers, strivers, and opportunists who populate this tale possess a uniquely American desire to reinvent themselves, whatever it takes. An epic story of love, hope and perseverance." —#1 New York Times bestselling author Christina Baker Kline

"Here is adventure of the first order, as young Sylvie Pelletier finds herself thrust into a seething union dispute in a marble-quarrying town. There's violence in the wintry air, but also romance, as two charismatic men vie for Sylvie's attention. Dread and love entwine, as the forces and people that transformed the 20th century converge on the town, all this rendered by Ms. Manning in prose as clean and sharp as the stone saws on the mountain. I raced through it. Sylvie is dynamite and Gilded Mountain is brilliant." —#1 New York Times bestselling author Erik Larson

"The best historical novels sing because, through them, we feel the reverberations of the past in the present day. Hard work, love, sorrow, revenge, joy — Gilded Mountain hums with all of this and more." —Mary Beth Keane, New York Times bestselling author of Ask Again, Yes