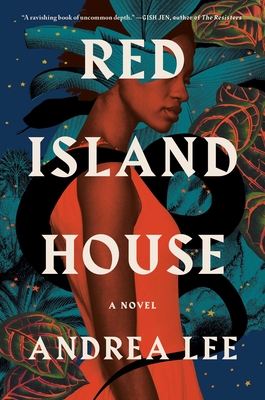 Staff Reviews
---
Have you been craving a tropical vacation to a serene beach? Have you been to a tropical vacation spot and peaked into stores and homes and wondered about the stories of the occupants? This book will fill the cravings of both of the above. Each chapter is a stand alone story of a community member of a small island in Madagascar (I now have it on my bucket list!) delving into the relationships between the protagonist (an African American academic), her Italian business tycoon husband, and all the local islanders, many of whom work as staff at their large vacation home. There are lovely stories and sad stories intertwined. I loved every character in this book but probably would not want to be friends with any of them! Living in a tropical paradise is not as nice as it would seem.
— From
What Amy is Reading
April 2021 Indie Next List
---
"Shay, an African American professor married to a brash Italian businessman, is seduced by the beauty and exoticism of Madagascar. The lavish Red Island House her husband builds (supposedly for her but more as a testament to his success) affords Shay a dream vacation home, but as she navigates her role as its mistress, she must also come to terms with the effects of colonialism on the people of this island nation, a people with whom she shares skin color and a legacy. Across 20 years, Lee weaves stories of those who arrogantly deem a paradise for their taking with those left grasping for what is rightfully theirs. This is a provocative tale of magic, power, and identity."
— Linda Sherman-Nurick, Cellar Door Books, Riverside, CA
Description
---
From National Book Award–nominated writer Andrea Lee comes Red Island House, a travel epic that opens a window on the mysterious African island of Madagascar, and on the dangers of life and love in paradise, as seen through the eyes of a Black American heroine.

"People do mysterious things when they think they have found paradise," reflects Shay, the heroine of Red Island House. When Shay, an intrepid Black American professor, marries Senna, a brash Italian businessman, she doesn't imagine that her life's greatest adventure will carry her far beyond their home in Milan: to an idyllic stretch of beach in Madagascar where Senna builds a flamboyant vacation villa. Before she knows it, she becomes the reluctant mistress of a sprawling household, caught between her privileged American upbringing and her connection to the continent of her ancestors. So begins Shay's journey into the heart of a remote African country. Can she keep her identity and her marriage intact amid the wild beauty and the lingering colonial sins of this mysterious world that both captivates and destroys foreigners?

A mesmerizing, powerful tale of travel and self-discovery that evokes Isabel Allende's House of the Spirits and Chimamanda Ngozi Adichie's Americanah, Red Island House showcases an extraordinary literary voice and gorgeously depicts a lush and unknown world.
About the Author
---
Andrea Lee is the author of five books, including the National Book Award–nominated memoir Russian Journal, the novels Red Island House, Lost Hearts in Italy and Sarah Phillips, and the story collection Interesting Women. A former staff writer for The New Yorker, she has written for The New York Times Magazine, Vogue, W, and The New York Times Book Review. Born in Philadelphia, she received her bachelor's and master's degrees from Harvard University and now lives in Italy.
Praise For…
---
"This transporting history of an imperfect marriage braids together dramatic episodes, island history and fable, all infused with Lee's sharp insights into human nature."
—People Magazine

"Come for the views, stay for simmering tensions and culture clashes. Lee welcomes readers with lush language, then lays out a dazzling buffet of choices and assumptions that are ripe for questioning."
—The New York Times

"A gorgeous narrative that perhaps only Lee could have constructed — an ambitious attempt to use fiction to explore the reality of a world fractured by race and class."
—The Washington Post

"Spellbinding! I'm in utter awe of Red Island House. . . . Lee's exquisitely precise language brings the reader deep into the Malagasy world, both geographically and emotionally, and I never wanted to leave. This book is a marvel."
—Elin Hilderbrand

"Lush, perceptive... a unique, surprising work – at once a psychological novel, a novel of place and a novel about relationships."
—Mark Athitakis, USA Today

"Lee combines luscious physical descriptions with sharp-witted social perception in this thrilling novel... she approaches the broadly political and the minutely intimate with equally fine prose."
—Jackie Thomas-Kennedy, Minneapolis Star Tribune

"Lee's striking writing is layered and thick with evocative descriptions of people, landscapes, feelings and foreboding. Sociological and psychological, it's prose with the abstract feel of poetry. The stories of Red Island House are vibrant and enchanting."
—BookPage, starred review

"Offers a captivating take on colonialism, privilege, race, and heritage."
—Christian Science Monitor

"Journey to the island of Madagascar through the eyes of a Black American woman in an epic tale that explores the dangers of love against the backdrop of paradise."
—San Francisco Book Review

"Andrea Lee whisks you to the island of Madagascar and spins interconnected stories set on the beach."
—Martha Stewart Living

"Lee writes with such lush and observant precision that you feel you are traveling with her."
—The Millions

"Brilliant and tragic."
—Booklist, starred review

"A mesmerizing novel... The lush natural habitat and privileged ex-pat existence contrast starkly with the island's poverty and traditions, and Lee makes magic of this to deliver a singularly intriguing and mysterious saga that casts an enduring spell."
—O Magazine, Most Anticipated Books of 2021

"Gorgeous writing, fascinating stories, and a vibrant cast of locals and expats dance around this basic theme ... An utterly captivating, richly detailed, and highly critical vision of how the one percent lives in neocolonial paradise."
—Kirkus, starred review

"Seductive... the writing is vivid... the overall impact is quietly powerful."
—Publishers Weekly

"Lee is known for the evocative settings of her...books...I'm excited to travel to Madagascar with her new novel."
—The Every Girl

"The star is Madagascar... whose terrain is so gorgeously described by Lee that any reader with an ounce of adventurousness would move to the island tomorrow. But beauty can never hide tension for long, and Lee deftly handles race and class in ways that resonate even for those who could not find Madagascar with a GPS."
—Air Mail

"Red Island House is one of the best novels of the year. A beautifully constructed manifesto on the Black expatriate view of the world, Andrea Lee explores mixed race heritage and inheritance in such an electric, interesting way."
—Kaitlyn Greenidge, author of Libertie

"Andrea Lee's new novel—about a Black American woman caught between her privilege and her identity—is daring, riveting and deep. The lavish vacation home she and her husband build on an impoverished African island is a collision course, and like this novel, will make you question everything you thought you understood—about allegiance and race, politics and desire."
—Danzy Senna, author of New People

"Andrea Lee's latest novel is a work of supreme knowingness, and keen observation. As one of the more articulate voices we have on the exigencies of race, place, and gender, Lee has rendered, in this superbly constructed and felt book, that rare thing: a work of the imagination as shattering as the truth."
—Hilton Als, author of The Women and White Girls

"'In Madagascar, everything speaks' . . . if you can hear it. And hear it all does Andrea Lee's exquisitely sentient protagonist. At first dimly, but then with an ever more discerning ear, Shay attunes herself and the reader to subtlety after subtlety, until the island has yielded extraordinary truths, not only about itself, its people, and its visitors, but about the undertow of plunder. This is a ravishing book ofuncommon depth; I loved it."
—Gish Jen, author of The Resisters

"Lee's Red Island House is a seductive, haunted dreamscape where ancestors stir trouble across four centuries and three continents. From the moment Shay Senna arrives at this seaside Madagascar paradise, she senses danger. Betrayal comes but so does reconciliation and a healing sisterhood, as Lee lures us into a realm where boundaries between the real and the surreal disappear."
—A'Lelia Bundles, author of Self Made: Inspired by the Life of Madam C. J. Walker

"This magical novel—a collection of reflections and vignettes—is as lush, dense and vivid as the Madagascar it describes. Pairing rich detail with reflective restraint, Lee has created something truly beautiful: At once an exploration of an enchanted island and a meditation on modern womanhood."
—Taiye Selasi, author of Ghana Must Go

"At once charming and deeply serious, this eloquent, elegant, beautifully written novel takes on the full range of human experience: love and disappointment, hope and betrayal, race, class, colonialism, moral obligation, the high cost of being an outsider--and the equally high price of belonging."
—Francine Prose, author of Mister Monkey

"I know of no other writer who creates the kinds of worlds Andrea Lee imagines—the exquisite prose, the otherworldly landscapes, the fascinating people. Red Island House transported me. It may have looked like I was sitting on my couch reading a book, but I'm telling you I traveled to Madagascar."
—Dolen Perkins-Valdez, author of Wench and Balm