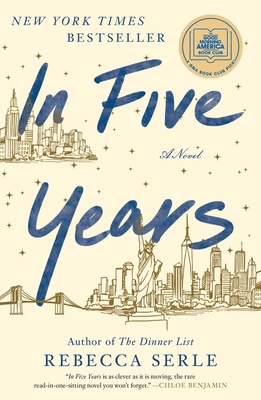 Staff Reviews
---
Romance is not my normal genre but I picked up In Five Years because there were so many accolades by authors I really enjoy and the quote on the title page is from one of my all time favorite books, Evidence of Things Unseen. Here 20 something Dannie is on her life's path that she has been planning since she was young. She's ambitious and making her way up as a corporate lawyer. She has the perfect boyfriend and she knows they'll have the perfect marriage, but then the age-old interview question of "where will you be in five years" enters her mind and her perfect life begins to go amiss. Rebecca Serle's writing is good and smart and I thoroughly enjoyed this clever story.
— From
What Karin is Reading
March 2020 Indie Next List
---
"Rebecca Serle's In Five Years has so many of the things I want in a terrific novel: a twisty plot that leaves me guessing; radically unexpected developments; settings that I can see, smell, and taste; and probably the thing that Serle does best — an introduction to characters I'll grow to care about and shed tears with. That last one? The tear thing? In Five Years had me weeping for the last part of a coast-to-coast flight, prompting the flight attendant to hand me a drink because, she said, it looked like I needed one. I loved this book and can't wait to offer it to readers."
— Nick Petrulakis, Brookline Booksmith, Brookline, MA
Description
---
A NEW YORK TIMES BESTSELLER

A Good Morning America, FabFitFun, and Marie Claire Book Club Pick

"In Five Years is as clever as it is moving, the rare read-in-one-sitting novel you won't forget." —Chloe Benjamin, New York Times bestselling author of The Immortalists

Perfect for fans of Me Before You and One Day—a striking, powerful, and moving love story following an ambitious lawyer who experiences an astonishing vision that could change her life forever.

Where do you see yourself in five years?

Dannie Kohan lives her life by the numbers.

She is nothing like her lifelong best friend—the wild, whimsical, believes-in-fate Bella. Her meticulous planning seems to have paid off after she nails the most important job interview of her career and accepts her boyfriend's marriage proposal in one fell swoop, falling asleep completely content.

But when she awakens, she's suddenly in a different apartment, with a different ring on her finger, and beside a very different man. Dannie spends one hour exactly five years in the future before she wakes again in her own home on the brink of midnight—but it is one hour she cannot shake. In Five Years is an unforgettable love story, but it is not the one you're expecting.
About the Author
---
Rebecca Serle is an author and television writer who lives in New York and Los Angeles. Serle developed the hit TV adaptation of her YA series Famous in Love, and is also the author of The Dinner List, and YA novels The Edge of Falling and When You Were Mine. She received her MFA from the New School in NYC. Find out more at RebeccaSerle.com.
Praise For…
---
Advance Praise for In Five Years:

"What would you do if you glimpsed your life five years from now—and found that it was different, in every way, from what you hoped for and expected? Rebecca Serle pairs this inspired premise with deft, propulsive prose and characters who feel as real as friends. In Five Years is as clever as it is moving, the rare read-in-one-sitting novel you won't forget." —CHLOE BENJAMIN, New York Times bestselling author of The Immortalists

"Serle takes a fairly generic rom-com setup and turns it into something much deeper in this captivating exploration of friendship, loss, and love." —Booklist

"Heartbreaking, redemptive, and authentic in all the ways that make a book impossible to put down, I fell in love with this story. In five years, I will still be thinking about this beautiful novel." —JAMIE FORD, New York Times bestselling author of Hotel on the Corner of Bitter and Sweet

"I adored In Five Years, it's so poignant and tender. It broke my heart, such an unusual idea executed brilliantly, I didn't see that twist coming! I'm a sucker for great love stories, and this one is just lovely. A keeper on my shelf!" —JOSIE SILVER, author of #1 New York Times bestseller and Reese's Book Club pick One Day in December

"In Five Years is more than just a love story; it's a half dozen of them, none quite what you expect. Heartwarming, heartbreaking, and hard to put down, it's a novel about romance, friendship, the magic of good bagels, and what happens after you get everything you always wanted." —LAURIE FRANKEL, author of New York Times bestseller and Reese Witherspoon Hello Sunshine pick This Is How It Always Is

"A heartwarming portrait of a broken heart finding a little healing magic." —Kirkus Reviews

"Serle's whimsical tale is book club catnip." —Publishers Weekly

"When smart, thoughtful writing pairs with a compelling, ingenious plot I am hooked and so very happy. It's been a long time since I read a novel in two sittings, but as soon as I started In Five Years, I was a goner. Loved it! Brava, Rebecca Serle." —ELINOR LIPMAN, author of Good Riddance

"I just finished In Five Years and—my heart—oh! What a clever, beautiful, special book. The writing is stunning, the concept is so original—it just has everything going for it. I loved every page." —BETH O'LEARY, author of The Flatshare

"With masterful storytelling and all the ingredients of a romantic comedy, Rebecca Serle weaves a story far deeper than the genre typically dares to go. In Five Years isn't simply a book you will read, it is a book that will change you." —JENNY MOLLEN, New York Times bestselling author of I Like You Just the Way I Am

"I read it in one late night. Very, very clever. And lovely. The end is EXACTLY what it should be." —ANSTEY HARRIS, author of Goodbye, Paris