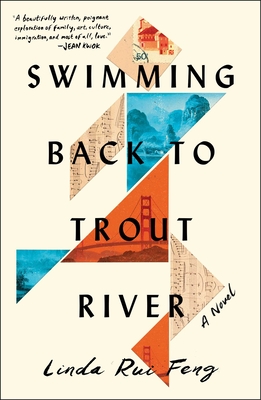 Staff Reviews
---
This debut novel by native Chinese author, Linda Rui Feng, is a lyrical, elegant story about love, trauma, resilience, compromise, integrity, and so much more. A musical theme plays throughout, portraying several talented violinists of different ages and backgrounds. Momo, Dawn and Viridiana share important roles in the book. Also prominent is the struggle of so many immigrants who risk family and future to build better lives in an adopted country. The writing is rich and engaging, a complex composition in itself. Feng is currently a professor of Chinese history at the University of Toronto and enters publishing with an impressive academic background and several award fellowships for her fiction.
Momo and Cassia both endured China's Cultural Revolution as impressionable Chinese youths, and each bear distinct emotional scars from their adolescent experiences. When they meet and marry, neither reveals their deepest soul or the intricacies of their respective pasts which will affect their future together. Their first child, a daughter Junie, is born without her legs from the knees down. Momo loves her intensely, despite her handicaps. Cassia struggles with her emotions and acceptance, which intensifies after their second child, a son, is stillborn.
Momo is determined to elevate himself and his family's fortune by leaving for America to pursue professional opportunity. He wants the best for his daughter and he plans on bringing Cassia and Junie over as soon as possible. Months pass, then several years. Concerned for their marriage, Momo's parents convince Cassia that she must go join her husband and leave them with Junie to raise in their small Chinese village. Cassia seems to leave her willingly, and Junie grows to care for her grandparents even more than her distant father and mother.
Feng does a masterful job of weaving together a fabric of characters whose fates overlap and intertwine, yet never perfectly unite. She holds our attention to the final pages with a surprising, ironic ending. She leaves open the door for a sequel to this beautiful, tragic, yet hopeful story. Surely Junie, now a unique and willful 12-year-old girl who still shares life with her beloved grandparents in Trout River has a future tale to tell.
Sandy Ferguson Fuller
— From
What Sandy is Reading
Description
---
LONGLISTED FOR THE CENTER FOR FICTION FIRST NOVEL PRIZE

A lyrical novel set against the backdrop of China's Cultural Revolution that follows a father's quest to reunite his family before his precocious daughter's momentous birthday, which Garth Greenwell calls "one of the most beautiful debuts I've read in years."

"A beautifully written, poignant exploration of family, art, culture, immigration, and most of all, love." —Jean Kwok, author of Searching for Sylvie Lee and Girl in Translation

How many times in life can we start over without losing ourselves?

In the summer of 1986, in a small Chinese village, ten-year-old Junie receives a momentous letter from her parents, who had left for America years ago: her father promises to return home and collect her by her twelfth birthday. But Junie's growing determination to stay put in the idyllic countryside with her beloved grandparents threatens to derail her family's shared future.

What Junie doesn't know is that her parents, Momo and Cassia, are newly estranged from one another in their adopted country, each holding close private tragedies and histories from the tumultuous years of their youth during China's Cultural Revolution. While Momo grapples anew with his deferred musical ambitions and dreams for Junie's future in America, Cassia finally begins to wrestle with a shocking act of brutality from years ago. In order for Momo to fulfill his promise, he must make one last desperate attempt to reunite all three members of the family before Junie's birthday—even if it means bringing painful family secrets to light.

Swimming Back to Trout River weaves together the stories of Junie, Momo, Cassia, and Dawn—a talented violinist from Momo's past—while depicting their heartbreak and resilience, tenderly revealing the hope, compromises, and abiding ingenuity that make up the lives of immigrants. Feng's debut is "filled with tragedy yet touched with life-affirming passion" (Kirkus Reviews, starred review), and "Feng weaves a plot both surprising and inevitable, with not a word to spare" (Booklist, starred review).
About the Author
---
Born in Shanghai, Linda Rui Feng has lived in San Francisco, New York, and Toronto. She is a graduate of Harvard and Columbia Universities and is currently a professor of Chinese cultural history at the University of Toronto. She has been twice awarded a MacDowell Fellowship for her fiction, and her prose and poetry have appeared in journals such as The Fiddlehead, The Kenyon Review, Santa Monica Review, and Washington Square Review. Swimming Back to Trout River is her first novel. Visit LindaRuiFeng.com to learn more.

Praise For…
---
"With lean prose and assured storytelling, this debut novel describes a family fractured by geography, ambition and the ripple effects of China's tumultuous 20th-century history."—NEW YORK TIMES BOOK REVIEW (NEW AND NOTEWORTHY)

"Against the backdrop of China's Cultural Revolution, a husband and wife are afraid to share their deepest longings and regrets. With disarmingly quiet prose, Feng digs beneath Cassia's and Momo's reluctance to mine their emotional depths as they struggle to grasp their individual experiences as well as their fractured relationship. Filled with tragedy yet touched with life-affirming passion."—KIRKUS REVIEWS (STARRED REVIEW)

"Feng's lithe debut moves with grace from Communist China to San Francisco and the Great Plains, and from the 1960s to the 1980s, as it follows four interlocked lives....With the lightest of touches, Feng vividly portrays the experience of living in China during Mao's rule as well as the pressures of being a new immigrant. Looking deeply into the 'invisible mesh' that links her characters' lives, Feng weaves a plot both surprising and inevitable, with not a word to spare."—BOOKLIST (STARRED REVIEW)

"Feng's striking debut novel chronicles what happens to a young Chinese family in the wake of the Cultural Revolution. Feng captures humor and grief in equal measures...and she elegantly references Chinese concepts of fate and luck while building toward a poignant conclusion. This resonates from page one."—PUBLISHERS WEEKLY

"Hard to put down, this beautifully written novel is filled with optimism…Feng makes her mark in this promising debut, and she successfully weaves in several unexpected plot twists as the narrative unfolds, leaving readers to long for a sequel."—LIBRARY JOURNAL

"During the tumultuous years of China's Cultural Revolution, 10-year-old Junie receives a letter from her parents in the United States promising to come retrieve her before her 12th birthday, but Junie doesn't want to leave her grandparents or the Chinese countryside. Her reluctance could derail her parents' plan, especially since long-buried family secrets and their individual struggles have already driven them apart."—GOOD HOUSEKEEPING (25 Best Historical Fiction Books to Take You Back in Time)

"Sensitively exploring themes of grief, hope and resilience, Swimming Back to Trout River is a symphony of a novel that is operatic in scope and elevated by Feng's artful writing."—BOOKPAGE

"Feng's debut is about a ten-year-old girl in a small Chinese village in 1986 whose parents live in America and have promised to return by her twelfth birthday. A novel about longing and secrets and immigrant compromises, one Garth Greenwell calls one of the most beautiful debuts he's read in years."—ELECTRIC LIT (44 BOOKS BY WOMEN OF COLOR TO READ IN 2021)

"Linda Rui Feng's Swimming Back to Trout River is a beautifully written, poignant exploration of family, art, culture, immigration and most of all, love. I was swept away by Feng's fierce intelligence and keen insight even as her characters captured my heart with their tender hopes and bold actions. A gorgeous book that I couldn't put down."—JEAN KWOK, author of Searching for Sylvie Lee and Girl in Translation

"What can account for the astonishing emotional force of this debut novel? Maybe it's that Linda Rui Feng understands her characters with an intimacy one seldom encounters, or the sense one has that she loves them so much. Or maybe it's Feng's exceedingly rare gift for putting language to feelings so profound, and so exquisitely observed, that they escape all readymade names. Everything in this gorgeously orchestrated novel surprises, everything outraces expectation. Swimming Back to Trout River is one of the most beautiful debuts I have read in years."—GARTH GREENWELL, author of Cleanness and What Belongs to You

"Swimming Back to Trout River is notable for the grace of its prose and the harmony of its intertwined narratives, but the essential 'beat' of this wonderful fiction is the heartbeat of its characters, so richly and lovingly brought to life."—PETER HO DAVIES, author of The Fortunes

"A beautiful and haunting story about a family's journey, a child's persistence, a couple's love. We all desire more, don't we? Yet we can't always predict what's on the other side. I felt immersed, taken back to a tumultuous and strange time that was full of inconceivable moments and hidden brightness. Feng writes with unflinching grace. She is exploratory yet precise, a narrative powerhouse. Needless to say, the music is poignant."—WEIKE WANG, author of Chemistry

"An impressive and thoroughly satisfying debut....This book offers profound insight into human longing: how lives become intertwined and complicated by desire, fear, and memory. Music and its riveting power connects Feng's characters through space and time. The period details are seamlessly woven, resulting in a beautifully crafted work of art with a story that will linger long after the turning of the final page."—ANN Y.K. CHOI, author of Kay's Lucky Coin Variety