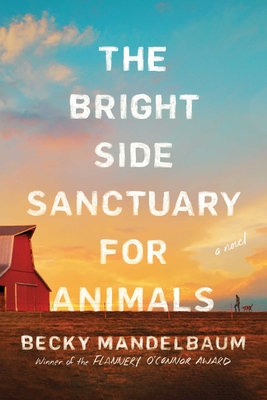 Staff Reviews
---
Thomas Wolfe's classic, You Can't Go Home Again, posed the silent question "But truly, can you?" Becky Mandelbaum's debut novel explores the complexities of returning to a favorite place, especially a childhood home filled with personal baggage. Most of all, when the "baggage" involves an estranged parent and a former first love.
Ariel leaves Mona's animal sanctuary in rural Kansas to attend college in urban Lawrence, against her mother's deepest wishes. For six years, she doesn't look back; instead she wanders into a mismatched romance with Dex, quits her education, and ignores her core values and passions. She tries to forget about her rough but wholesome upbringing on the Bright Side Sanctuary, where her mother's sole purpose seemed to be saving injured, abused and homeless animals at the expense of alienating her daughter. When Ariel learns that the Sanctuary is for sale, then gets news of a disastrous arson fire, she knows that she must return home to help her mother. What she doesn't know, yet, is how much she has missed the place, the people, and her favorite...the animals.
This is a witty and wise read. (It's also spiked with a few current political innuendoes!) Mandelbaum is a rising talent, the Recipient of the 2016 Flannery O'Connor Award for Short Fiction and the 2018 High Plains Book Award. She grew up in Kansas so her novel is flavored with sharp memories and reflections. The characters, both human and critter, grab for attention and carry the story.
Can one truly go home again? Ariel's dilemma begs for a sequel.
Sandy Ferguson Fuller
— From
What Sandy is Reading
August 2020 Indie Next List
---
"The Bright Side Sanctuary for Animals is a story of struggle, relationships, understanding, and forgiveness. When a daughter is compelled to return to the home she ran from years earlier, she must confront the truth about why she left and whether all fences can be mended. Becky Mandelbaum weaves together all of the threads of this story until it becomes a beautiful tapestry."
— Mary O'Malley, Anderson's Bookshop (La Grange), La Grange, IL
Description
---
From the winner of the 2016 Flannery O'Connor Award for Short Fiction comes a tender and funny debut novel, set over one emotionally charged weekend at an animal sanctuary in western Kansas, where maternal, romantic, and community bonds are tested in the wake of an estranged daughter's homecoming.

The Bright Side Sanctuary for Animals is in trouble.

It's late 2016 when Ariel discovers that her mother Mona's animal sanctuary in Western Kansas has not only been the target of anti-Semitic hate crimes—but that it's also for sale, due to hidden financial ruin. Ariel, living a new life in progressive Lawrence, and estranged from her mother for six long years, knows she has to return to her childhood home—especially since her own past may have played a role in the attack on the sanctuary. Ariel expects tension, maybe even fury, but she doesn't anticipate that her first love, a ranch hand named Gideon, will still be working at the Bright Side.

Back in Lawrence, Ariel's charming but hapless fiancé, Dex, grows paranoid about her sudden departure. After uncovering Mona's address, he sets out to confront Ariel, but instead finds her grappling with the life she's abandoned. Amid the reparations with her mother, it's clear that Ariel is questioning the meaning of her life in Lawrence, and whether she belongs with Dex or with someone else, somewhere else.

Acclaimed writer Pam Houston says that "Mandelbaum is wise beyond her years and twice as talented," and The Bright Side Sanctuary for Animals poignantly explores the unique love and tension between mothers and daughters, and humans and animals alike. Perceptive and funny, moving and eloquent, and ultimately buoyant, Mandelbaum offers a panoramic view of family and forgiveness, and of the meaning of home. Her debut reminds us that love provides refuge, and underscores our similarities as human beings, no matter how alone or far apart we may feel.
About the Author
---
Becky Mandelbaum is the author of Bad Kansas, winner of the 2016 Flannery O'Connor Award for Short Fiction and the 2018 High Plains Book Award for First Book. Her work has appeared in One Story, The Sun, The Missouri Review, The Georgia Review, Electric Literature, McSweeney's Internet Tendency, and has been featured on Medium. She has received fellowships from Writing by Writers, a residency from The Helene Wurlitzer Foundation, and has taught at Seattle's Hugo House. Originally from Kansas, she currently lives in Washington State. The Bright Side Sanctuary for Animals is her first novel.
Praise For…
---
"With heart, precision, and a fresh, resilient humor, The Bright Side Sanctuary for Animals reveals the complicated connections between people and animals alike. . . . Mandelbaum is wise beyond her years and twice as talented." —Pam Houston, author of Contents May Have Shifted and Cowboys Are My Weakness

"A story of reconciliation and forgiveness (and so many animals!) in the assured hand of a writer who understands that the hardest journeys we undertake are the ones in search of home." —Steven Rowley, bestselling author of Lily and the Octopus and The Editor

"A nuanced first novel... A timeless tale dressed in contemporary garb... A wise, big-hearted debut from a talented young writer." — MINNEAPOLIS STAR TRIBUNE

"Mandelbaum's heartwarming and sharp-witted debut features an estranged mother and daughter better at connecting with injured and abandoned animals than with each other... In Mandelbaum's bighearted, emotionally intelligent tale, the love for animals proves irresistible."—Publishers Weekly (starred review)

"Attention animal lovers, nature lovers, literary lovers—the Flannery O'Connor Award-winning author Becky Mandelbaum has written a book just for you. The Bright Side Sanctuary for Animals is characterized by love the size of the Kansas sky, an indelible attachment to home, and enough dogs to comfort you through the complexities of a Trump administration." — Chicago Review of Books

"Warm-hearted...[A] tale of misplaced feelings and misunderstood souls that is chiefly characterized by home, irresistible animals, and the forgiving of old rifts. Mothers and daughters reunite, and dogs seal the deal, in a feel-good charmer." —
Kirkus Reviews

"This first novel is finely rendered, lightly dashed with humor, and littered with lots of animals." — Booklist

"Witty and original." — The National Book Review