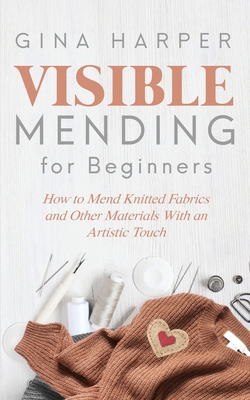 $13.97

Not Currently On The Shelf, But We Can Ship It To You In 3-5 Days
Description
---
If you want to learn how to mend your favorite denim and knitwear, without using the same boring 'zig-zag' pattern, then read on...
Have you ripped your favorite jeans and are desperate not to throw them away?
Are you thinking, 'What do I do now?', when you discover a hole in your favorite sweater?
Are you tired of using the same zig-zag pattern for all mending?
Are you tired of using ugly iron patches on your clothes?
The solution to your problems is here.
Taught below are some of the most effective mending techniques that will satisfy your mending needs.
They will teach you how to update clothing that may have a hole or rip, and help you end up with something timely and fashionable
If you sew at all, you can recycle clothing and end up looking really in tune with fashion for a lot less than buying mass-produced clothing.
All you have to do is learn the techniques inside.
Inside this book you will discover:
- How to mend your favorite denim (and avoid cutting them into shorts) using the 'sashiko' method
- How to patch jeans while keeping the distressed look
- The secret to incorporating doilies and other frills into your denim
- How to hem jeans while keeping the original hem
- 10 handy 'hacks' to avoid small mistakes and snags while mending
- How to mend rips in clothing with the best technique that hardly shows
- A versatile and robust mending technique that can repair your favorite sweater and socks
- 1 mending technique that blends both mending and embroidery, giving you the best of both worlds
- 2 special tools to use when darning your socks
- 1 simple but crucial tip that will make patching denim easier for you
- The #1 stitching technique you should use when repairing pillowcases
- The secret to finding and mending thrift store clothing
- A mending technique from India, that is considered a 'dying art', and could be lost to the ages within our lifetime (it is also perfect for mending your socks)
Save yourself from throwing out any more of your clothes into the trash.
If you want to save your 'favorite pair of jeans' or mend the sweater that is the comfiest one ever then...
Take action and buy this book now
P.S. Most people regret throwing out their favorite piece of clothing, after realizing that it could have been given a new life with mending. Learn before it's too late.