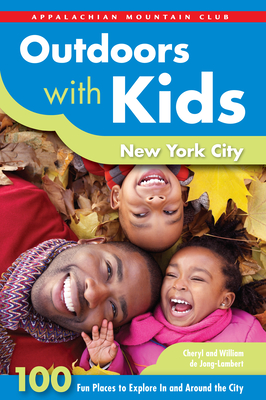 Description
---
Ensuring that children spend time active and outside is more important than ever, and this guide is exactly the resource busy parents need. With 100 outdoor destinations to choose from, Outdoors with Kids New York City offers parents all the information they need to plan and enjoy successful day trips and outings, from knowing whether a location is stroller-friendly or if swimming or camping is allowed, to driving directions, parking information, fees, snacks, bathrooms, and more. Including maps and photographs, and packed with information in an accessible format, this book is a must-have for city dwellers and visitors alike.
About the Author
---
Cheryl and William de Jong-Lambert live with their two young children in Morningside Heights in New York City. Cheryl is the editorial director at the Mount Sinai Medical Center and a longtime freelance writer. William is an associate professor of History at Bronx Community College, City University of New York, and affiliate faculty at the Harriman Institute at Columbia University.
Praise For…
---
"A marvelous resource for families living in or visiting New York. Every city should have a guide like this."
- Richard Louv, Author, The Nature Principle and Last Child in the Woods
"Throw this wonderful book in your backpack, grab the kids and explore all that New York City has to offer adults and kids of all ages who love the natural world. Packed with detailed trips throughout the parks and islands of the city's five boroughs, Long Island, the Catskill Mountains, the Hudson Valley, and New Jersey, including how to get there, the history of the area, where to eat, where to find water fountains and restrooms, and what you'll see during each season, whether it be hawks, seals, playgrounds, or areas for skateboarding, this book is a treasure for families who live in or visit New York City and its surrounding areas."
- Leslie Day, Author, Field Guide to the Natural World of New York City, and Field Guide to the Street Trees of New York City.
"This book beckons you to get outside with your kids and discover the surprising green spaces of the city and beyond. Accessible and informative, it's an indispensable guide for New York nature explorers."
- Betsy McCully, Author of City at the Water's Edge: A Natural History of New York