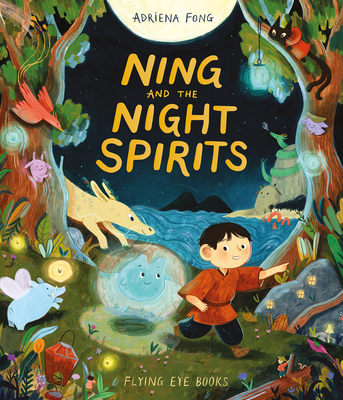 Description
---
A beautifully illustrated tale that shows no matter how small you feel, your actions can help make big changes.

"Ning is a gentle hero in this magical bedtime adventure."
—Devon Holzwarth, creator of Found You

Ning has always heard tales of the night spirits that used to terrorize the little village where he lives. So, each night, he helps his parents light bright orange lanterns to frighten them away. Secretly, he wonders if they're really as bad as everyone says – but is much too shy to ask anyone. But when Ning finds himself in the forest by night, he meets a creature who introduces him to the spirits' secret world and he discovers that all is not as it seems... A beautiful and magical story about confronting fears, confidence and a little boy who finds his voice.
About the Author
---
Adriena Fong is an illustrator born and raised in Singapore. She later moved to the UK where she completed a degree in Illustration at Falmouth University in 2020. She loves working with gouache and color pencils as well as textured brushes on Photoshop. With a keen interest in narratives of all sorts, her work hopes to instill a sense of warmth and
wonder. She is currently based back in sunny Singapore.
Praise For…
---
"Ning is a gentle hero in this magical bedtime adventure."
—Devon Holzwarth, creator of Found You