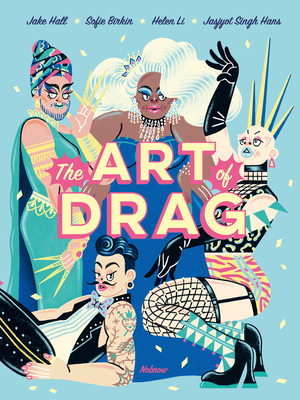 $22.99
Email or call for price.
Description
---
Before RuPaul's Drag Race propelled the cultural phenomenon into the global spotlight, drag had been around for thousands of years. Immerse yourself in the rich history of drag in this lusciously illustrated guide, brimming with dazzling colors and fabulous facts, all held together with a unique Swiss binding that lets each spread lay flat so that you can experience this book in all its trailblazing glory!

The history of drag has been formed by many intersections: fashion, theatre, sexuality and politics--all coming together to create the show stopping entertainment millions witness today. In this extensive work, Jake Hall delves deep into the ancient beginnings of drag, to present day and beyond. Vibrant illustrations enhance the rich history from Kabuki theatre to Shakespearean, the revolutionary Stonewall riots to the still thriving New York ballroom scene. Nothing will go undocumented in this must-have documentation of all things drag.
About the Author
---
Jake Hall is a freelance writer who has written for Dazed Digital, i-D, VICE, Highsnobiety, INTO, Refinery29 UK, and British Vogue, among others. They have written on topics from sustainability in fashion and body-shaming in queer communities, to government crackdowns on queer people, and intersex genital mutilation. Alongside this work, they are studying for a PhD at the University of Birmingham. Jake's research aims to illuminate the link between high fashion and queer theory, as well as arguing the potential of clothing to radically challenge and subvert the social constructs of gender, sexuality, and race.

Helen Li is an Australian illustrator based in Warsaw, Poland. She has worked with Google, Facebook, Dropbox and Redbull.

Sofie Birkin is a British illustrator based in Denver. She has worked with Cosmopolitan UK and BOA Technology.

Jasjyot Singh Hans is a Indian illustrator based in Chicago. He has worked with Google, New York Times and Vogue India.
Praise For…
---
"Highly enjoyable, extremely interesting and very accessible, this book is an essential guide to drag, its history, its impact and its continued potency."
—Amrou Al-Kadhi

"So fun, so thorough and so beautiful! It taught me more about drag than I could have ever imagined, because until this book it hasn't been quite so well documented."
—Amelia Abraham

"I've always thought drag queens could save the world and this book helps prove my point."
—Miss Coco Peru

"Only a book as beautiful and broad as this could possibly honour the history of drag. This book is utterly desirable as an art object but also hugely informative about the art of drag, the queer rebellion of drag and drag as a political statement as well as cultural art form. A thing of beauty!"
—Juno Roche

"The pages glow with brilliantly colorful illustrations, capturing all the queenly glamour; hot pinks and moody teals are contrasted with butter yellows and acid greens. Wigs have never looked taller, nor eye shadow so excessive. The result is a truly fabulous combination history and gift book."
—Publishers Weekly 

"a celebration of drag's weird and wacky history from all sorts of cultures and histories, with absolutely stunning art."
—Glad Day Bookshop