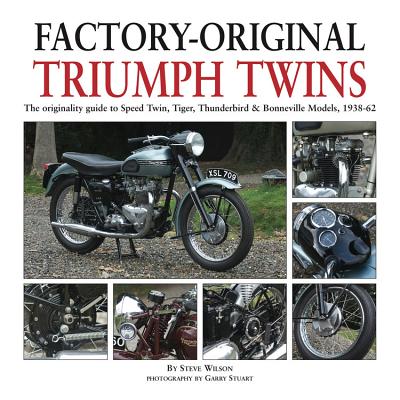 $64.95
Email or call for price.
Description
---
These immortal motorcycles, powered by Triumph's magnificent parallel-twin engine, are probably the most popular and sought after classic bikes in the world--so for most owners and potential buyers the question of originality is very important. The problem is, this information can be hard to find, but in this book long-time Triumph expert and author Steve Wilson provides the answers, backed up by detailed colour photography of outstandingly original examples of Speed Twins 1938-58, Tiger T100s 1939-58, Thunderbirds 1950-62, Tiger T110s 1953-61, and T120 Bonnevilles 1959-62. Mechanical components, frame, suspension, brakes, electrics, wheels, metalwork, instruments, badging, trim and colours and finishes are all covered, with some 300 specially commissioned photographs pinpointing correct original equipment and specification.
About the Author
---
Steve Wilson is a leading classic motorcycle journalist and author of the definitive six-volume British Motorcycles Since 1950. He contributes monthly to Real Classic and Classic Car Mart magazines.
Garry Stuart has been professionally photographing motorcycles for 20 years, and his work has been published in books and magazines on motorcycles worldwide. His main interest is to document the world of Harley-Davidson motorcycles and their riders, and for this purpose he attends rallies and events all over the USA and Europe.
His photographs have illustrated over a dozen books on the subject of Harley-Davidson, and examples of his current work can be viewed on his website www.harleypics.com.