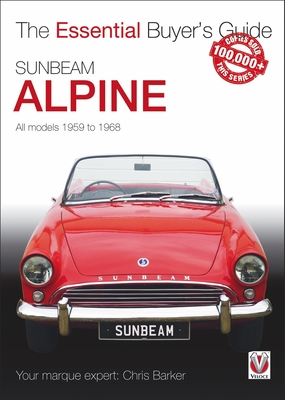 $25.00
Email or call for price.
Description
---
Rootes' Sunbeam Alpine sportscar was the flagship of its car range. Here, all the various models and production changes are described and illustrated in detail, along with what it's like to own, drive and live with an Alpine - one of the best engineered, stylish and practical cars of its time, and still satisfying to drive today.
If you're thinking of buying an Alpine, this book will help you decide which model you really want, and learn exactly what to look for when you go to view a car. By using a thorough points-based assessment, you can decide with your head - not your heart - so you can better make the right decision, and pay the right price.
Benefit from the author's forty years' of Alpine ownership experience and engineering expertise, all in one book!
About the Author
---
Chris Barker began his career with Rootes Motors, and gained his degree in Automotive Engineering at Loughborough University. He soon moved to Westland Helicopters where he worked until retirement, having been Chief Designer for the Lynx and AW101 Merlin helicopters. He has owned his Sunbeam Alpine since 1973 and bought his second classic car, a 1926 Model T Ford Coupe, in 2002. In recent years he has restored machinery in his local Victorian twineworks, and has installed a 1927 oil engine to power it. He has written books and numerous articles on the Alpine and the Model T, and was co-author of a successful book on English Model T Fords. He is the Archivist for the Model T Ford Register of Great Britain – the UK owners' club for Model Ts.