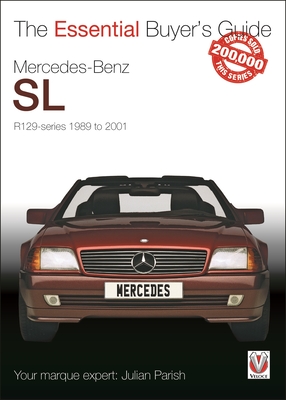 $25.00
Email or call for price.
Description
---
With prices for the older Mercedes-Benz models, such as the 'Pagoda' and W107 SLs heading ever higher, many enthusiasts are now starting to look at the R129 series SL. Produced from 1989-2001, it combined timeless elegance, luxury and effortless performance, with V12 engines available for the first time. The R129 was the last SL with a detachable hardtop and - for many Mercedes fans - the last to be built to the marque's legendary standards of construction.
With that sophistication came new levels of equipment and unprecedented complexity. For would-be buyers today, there are more points than ever to watch out for. The cars' weight also puts strain on components such as the brakes and suspension. Choosing a good R129 demands care.
This buyer's guide will help you do just that. Learn about the differences between models, and what to look for when buying. What are the true running costs, and what issues - with the mechanicals, body or interior - should you be wary of? Find the answers to these questions and information about the clubs and specialists who can help look after your R129 today.
About the Author
---
Julian Parish hails from the south of England, but has now lived and worked in France for many years. After a career in publishing and international software development, Julian now contributes regularly to magazines including Classic & Sports Car, and translates motoring content from French and German into English. He has both written and translated several of Veloce's Essential Buyer's Guides, mainly concentrating on the Mercedes-Benz marque, for which he has a particular passion. He has also written the popular travel guides France: The Essential Guide for Car Enthusiasts and The Essential Guide to Driving in Europe, also published by Veloce. Julian is a member of the Guild of Motoring Writers.