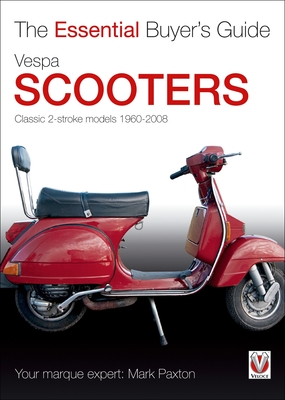 $19.95
Email or call for price.
Description
---
The two stroke Vespa is rightly regarded as an iconic scooter. It's initial purpose was to provide low cost transportation to the masses in the 1950s, but it evolved through the vibrant '60s to became a symbol of the burgeoning youth culture, and on into the '90s when it became firmly entrenched as an Italian icon. The history of this phenomenon has been well documented, as has the subculture that surrounds it, but there has been no previous attempt to provide a guide to buying one of these classic scooters. This book will help ensure that you avoid the main pitfalls and end up with your very own slice of La Dolce Vita on the driveway.
This Essential Buyer's Guide is packed with good advice from running costs, paperwork, vital statistics, valuation and the Vespa community, right through to whether your scooter will fit in with your lifestyle. This is the complete guide to choosing, assessing and buying the Vespa of your dreams.
About the Author
---
A dedicated petrolhead, Mark Paxton has been addicted to two wheels since first wobbling unaccompanied on to the road over 35 years ago. His entire working life has revolved around vehicles, initially in transport management, then through running his own garage, and latterly writing for classic car and motorcycle magazines. Mark's books include: How to Restore Classic Smallframe Vespa Scooters, How to Restore Volkswagen Buses, and Essential Buyer's Guides for Vespa 2-strokes, Minis, Ford Capris and Citroen 2CVs, all published with Veloce.