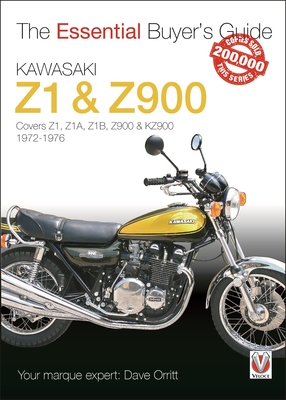 $25.00
Email or call for price.
Description
---
Packed with good advice on choosing the right Kawasaki, with a comprehensive inspection guide and in-depth analysis of strengths and weaknesses, this book covers desirable upgrades, modifications to avoid, valuation and predicting which models will become collectable (if they aren't already). Illustrated throughout with photos of key areas to check and foibles to be aware of, and featuring details ranging from the Kawasaki community, to whether a Kawasaki Z1 or Z900 will suit you and your lifestyle, this is the complete guide to choosing, assessing, and buying the Kawasaki of your dreams.
About the Author
---
Dave Orritt has been interested in motorcycles from an early age, getting his first moped at nine years old. After a succession of field and road bikes, his passion for Kawasaki Z1s was re-ignited following a chance encounter at the Stafford Show in 2004. He decided to create a Z1 collection, and now has over 30 classic Kawasakis, a variety of which he regularly displays, and has loaned to magazines including Bike Magazine and Practical Sportsbike Magazine, for road testing and photoshoots. His collection is constantly expanding, and his latest project is the restoration of a 1975 Kawasaki Z1B, which will be feature at the Stafford Show in the future.