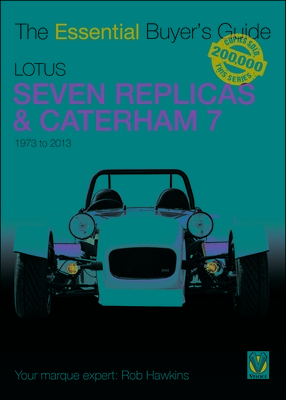 $19.95
Email or call for price.
Description
---
Packed with good advice on how to find and maintain a Lotus Seven, Caterham Seven or a Seven replica. From running costs, through paperwork, vital statistics, and valuation, this book shows you exactly what to look for when examining one of these cars as a potential purchase. Includes detailed descriptions of all the individual models and foibles to be aware of, a comprehensive condition checklist including photos of key areas to check. Also includes info on key specifications and useful upgrades that will enable one of these classic machines to be used on a regular basis, plus details of the Seven community – in fact, everything you need to buy the car of your dreams.

Rob Hawkins has owned, built and driven a large number of kit cars, and draws on his own knowledge and experience in this book; he also interviewed almost one hundred specialists, manufacturers, and owners of Seven-styled kit cars.
About the Author
---
Rob Hawkins became a motoring journalist and photographer in 1993, combining his passions for writing, photography, and sports cars. He has written and photographed features for MG Enthusiast magazine since 1995, and has owned or driven most of the postwar MGs. When the MGF was launched in 1995, Rob was involved with test driving standard and modified versions, and wrote articles on how to repair and improve this mid-engined, two-seater sports car. He has also always had a passion for classic camper vans and after buying his own VW Bay Window Van in 2010, he made his own interior, fitting and testing a variety of popular accessories and equipment. 
Praise For…
---
"an interesting and handy little guide to arguably the world's most iconic sportscar ... for the money, this is informative and well , rather handy ..." - tkc (Totalkitcar)