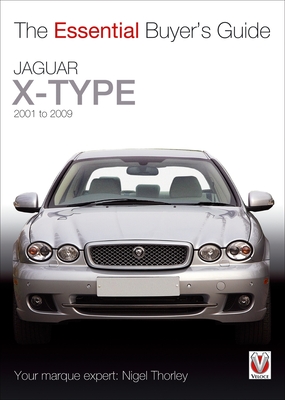 $19.95
Email or call for price.
Description
---
The essential guide the Jaguar X-Type – the first 'baby' Jaguar ever produced. The X-Type catered for an entirely new market for Jaguar, and proved highly successful. Covering all the models from this period, this guide provides you with all the procedures necessary to ensure the car you are looking at is actually what it appears to be. Close study and careful inspection are vital with the X-Type, and this guide identifies some of the pitfalls to avoid, helps you decide on exactly how and where to buy, and shows how to get the best possible car you can for your money. This is the only title available on the X-Type models – the ultimate pocket guide to read, digest and keep with you at all times.
About the Author
---
Nigel Thorley is a well-regarded motoring historian with a particular interest in the Jaguar marque. Having owned sixty-one examples of the brand since the age of 17, including 16 MkIIs, his knowledge and expertise of these cars is second to none. Nigel has written twenty titles on the marque, has contributed to TV and radio programmes, regularly provides talks and seminars on the models, and is a prominent founder member of the Jaguar Enthusiast's Club. He also edits their prestigious monthly magazine, Jaguar Enthusiast.