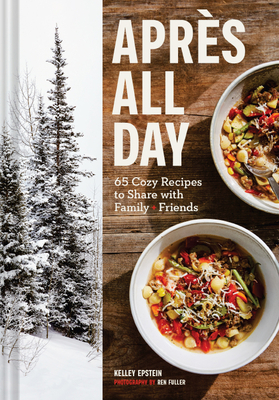 Staff Reviews
---
This is a great gift book for someone new to the mountains or new to cooking/baking. The easy basic recipes are perfect fare for enjoying after a day in the mountains. I love the beautiful photos and the fun sidebars of mountain-town lingo and the very helpful high altitude adjustments.
— From
What Karin is Reading
Description
---
For ski bums and non-skiers who enjoy the snow, here is a cozy winter cookbook of 65+ hearty recipes, plus beautiful photography that captures the après-ski culture and mountain town life.

Après-ski is more than just an afternoon beer in the lodge. It's an opportunity to gather with friends and family over delicious food and drinks during the cold winter months. This cozy cookbook invites home cooks of all levels to embrace the après culture all season long, whether they're the first skier on the slopes in the morning or a nonskier who prefers to snuggle up by the fireplace. There are recipes for every meal—because yes, you really can "après all day"—including Apple Pie Oatmeal as pre-ski fuel, Tater Tot Nachos, a.k.a. "Tatchos" for an indulgent snack on the couch, Classic Beef Stew with Cheesy Garlic Bread for a family potluck, and a well-deserved Kitchen Sink Skillet Cookie to end the day. There is a section with helpful tips on cooking at altitude, plus fun sidebars featuring must-know ski lingo, ideas for game night, and more. Ski bums, outdoor enthusiasts, and anyone who lives in cold climates will appreciate the hearty recipes and beautiful photography of mountain scenery.

FOR ANYONE IN COLD CLIMES: Après-ski isn't just for skiers, and neither is this cookbook—anyone can après, at any time of day! The recipes in this book are perfect for anyone who lives somewhere with cold winters or loves the mountains or the idea of mountain living.

GOOD GIFT FOR A RANGE OF FOLKS: With beautiful mountain scenery and photos of charming ski towns, Après All Day encapsulates a way of life. This is a lovely gift for anyone who likes to cook, as well as those who enjoy or aspire to an outdoorsy life in the mountains.

COMPELLING PACKAGE: Après All Day is full of evocative photography: a stack of blankets, signage on the slopes, chairlifts in the fog, snow-dusted pine trees, and more. The approachable recipes, informal tone, and aspirational photography will make you feel as if you are enjoying a ski weekend in the mountains with your best friend.

Perfect for:

• Home cooks who love the mountains and mountain dwellers who like to cook
• Skiers and snowboarders of all levels
• Anyone who enjoys snow activities and the après-ski culture
• Those who live in places with cold winters
• Armchair travelers
About the Author
---
Kelley Epstein is a personal chef and food blogger living in Park City, Utah. She's been cooking for local families, seasonal visitors, Sundance Film Festival-goers, and her two young boys and husband for 15+ years. On her food blog, Mountain Mama Cooks, Kelley shares recipes and anecdotes from her high altitude kitchen. Her style of cooking is approachable, wide ranging, and family friendly.