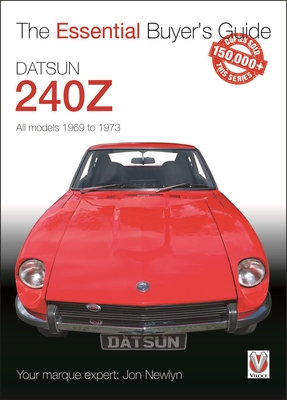 $25.00
Email or call for price.
Description
---
The Datsun Z Sports car is the best-selling sports coupé in the world. Most people have been touched by one at some point in their lives. You may have owned one when they were new and regretted selling it. Maybe you remember your friends' Zs, and always longed for one but thought the task to find a good 240Z too difficult. Datsun 240Z 1969 to 1973 will give you the knowledge and confidence to go out there and find your Z. With advice on finding, assessing, and buying a Datsun 240Z, including a unique scoring system to evaluate a potential purchase, as well as tips on buying at auction, checking the paperwork and much more, this book is THE essential guide.
 
About the Author
---
There are a few things that Jon Newlyn is passionate about; One of them is cars, predominantly classic cars, and Japanese classic cars in particular. He first got involved with the Datsun Z series in 1985 when he purchased his first; a car that turned out to have motorsport history. During the restoration of this model his current Z became available, and was the most historically important model that came to the UK.  His dedication to the S30 series was fostered then and he helped nurture a new club (The Classic Z Register) to help owners restore their cars to their former glory.  Jon has taken a central role and was appointed Chairman of the Register is 1998, a position he has held ever since. Jon has contributed to many magazine articles and has compiled and co-written the Classic Z Register Magazine for the last 25 years.  He is about to release The Rambling of a Chairman, which is a collection of his magazine blogs over the last 20 years.