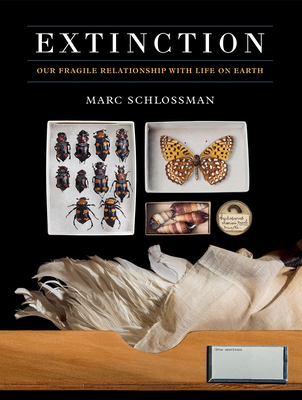 Staff Reviews
---
A gorgeously photographed look into the collection of Chicago's Field Museum! This book goes into the reasons behind the decline of each specimen's species and either the eventual extinction, conservation efforts, or continuing worries for it's survival. At turns beautiful and informing; heart-rending and inspiring. A great book for conservation enthusiasts, science lovers, and those who want a coffee table book that's a bit different.
— From
What Kathleen Is Reading
Description
---
Extinction explores endangered and extinct species and the factors threatening them through a behind-the-scenes lens on one of the most important sets of natural history collections in the world, at the Field Museum in Chicago.

Schlossman combines unique photographs of specimens from the Field Museum in Chicago with informative and insightful text about the species themselves, reasons for decline, and the conservation efforts in place to prevent further extinction.

The specimens revealed in this book are not on public display and the only way to see many of them is through these photographs, the result of ten years cataloguing key species from the museum's zoology and botany collections. The images lead the reader to the species' stories, promoting a greater understanding of mankind's stewardship of life on Earth at a critical time in history.

Extinction illustrates the crucial importance of museum collections for conservation, education and research.

The book has been designed to have pages with black backgrounds for extinct species and white backgrounds for species nearing extinction. A yellow flag highlights conservation successes, which are interspersed throughout. The conservation success stories highlight the positive work that is happening and the potential there is to prevent the extinction of these and other species.
About the Author
---
Marc Schlossman has a lifelong interest in ecology and photography. He grew up in Chicago, originally completing a BSc in Wildlife Biology at the University of Maine. His freelance photography career began in Boston in 1986, working for various newspapers and magazines.

Based in London since 1987, he has won numerous environmental photography awards, was co-founder, producer and curator of FrameZero Gallery and is co-photographer for two travel books. His work has been featured in The Sunday Times Magazine, The Washington Post, The London Telegraph and New Scientist Magazine.