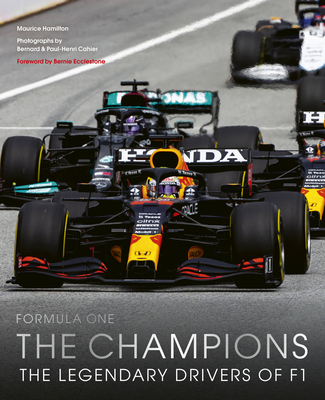 $45.00
Not Currently On The Shelf, But We Can Ship It To You In 3-5 Days
About the Author
---
Maurice Hamilton has been part of the Formula One scene since 1977 and was the Observer's motor racing correspondent for 20 years. He has written more than 20 books as well as commentating on Formula One for BBC Radio. He is now actively involved with the online community on Twitter and writes several blogs whilst continuing to write books about racing. 
Praise For…
---
'Fine writing is complemented by great imagery provided by Paul-Henri and Bernard Cahier.'
- Motorsport magazine
—
-
'The old adage that a picture is worth a thousand words certainly applies here. With Hamilton's profiles being succinct, it allows the iconic Cahier Archive – built by Bernard and his son Paul-Henri – to come to the forefront and leave a lasting impression on the reader... Hamilton and the Cahier Archive have combined again to create a statement piece which would be a very worthy addition to your Formula 1 collection. 4/5 – Highly recommended.'
- PlanetF1
—
-
'The redoubtable scribe Maurice Hamilton explores every single one of those 33 remarkable people in his latest work... for this he has teamed up with father and son Bernard and Paul-Henri Cahier of the Cahier Archive Photographic Collection. The trio is well-placed to take on the task... it all ensures that in this book each champion receives a lavish portrait in words and pictures. 
Great value and highly recommended.'
- Motorsport News
—
-
'This is a book that once opened, you will not want to put down until you have thumbed through all 240 pages.'
- Our man behind the wheel
—
-
"A must-have for anyone interested in the stories of Formula One drivers, their professional lives and racing careers."
- Bruce Herrington, PANDO Magazine
—
-