Progress: Ten Reasons to Look Forward to the Future (Hardcover)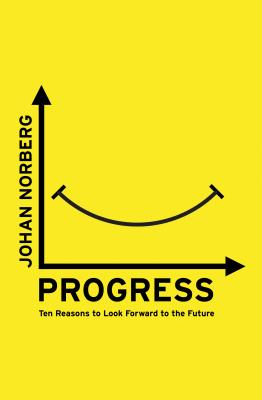 Description
---
A Book of the Year for The Economist and the Observer
It's all over our televisions, newspapers and the internet. Every day we're bludgeoned by news of how bad everything is – Brexit, financial collapse, unemployment, poverty, environmental disasters, disease, hunger, war. Indeed, our world now seems to be on the brink of collapse, and yet:
We've made more progress over the last 100 years than in the first 100,000
285,000 more people have gained access to safe water every day for the last 25 years
In the last 50 years world poverty has fallen more than it did in the preceding 500
Contrary to what most of us believe, our progress over the past few decades has been unprecedented. By almost any index you care to identify, things are markedly better now than they have ever been for almost everyone alive.
Examining official data from the United Nations, the World Bank and the World Health Organization, Johan Norberg traces just how far we have come in tackling the issues facing our species. While it's true that not every problem has been solved, we do now have a good idea of the solutions and we know what it will take to see this progress continue. Counter-intuitive, dramatic and uplifting,
Progress
is a call for renewed hope in defiance of the doom-mongering of politicians and the media.
About the Author
---
Johan Norberg is a lecturer, documentary filmmaker and internationally acclaimed author. He is a senior fellow at the Cato Institute in Washington DC and the European Centre for International Political Economy in Brussels. A frequent commentator in Swedish and international media, he has a weekly column in Sweden's biggest daily, Metro. He lives in Malmö.
Praise For…
---
'Reminds us that headlines are misleading and that history and data show that life has been getting radically better in every way'.
— Steven Pinker

'A blast of good sense.'
— Economist

'Norberg has a strong case and he makes it with energy and charm. A pertinent book for grumpy times.'
— Robbie Millen, The Times

'His unfailing optimism and well-argued points generate powerful good-news vibes'.
— Esquire

'An exhilarating book. With the combination of arresting stories and striking data, Progress will change your understanding about where we've come from and where we may be heading.'
— Steven Pinker, author of The Better Angels of Our Nature

'Norberg entertainingly presents the case for something every expert knows but most newsreaders will find hard to believe: the world is getting richer, healthier, freer, and more peaceful'.
— Observer

'Johan Norberg chronicles the still largely unknown fact that humanity is now healthier, happier, cleaner, cleverer, freer and more peaceful than ever before. He also explains why in this superb book.'
— Matt Ridley, author of The Evolution of Everything

'At a time of profound pessimism, Johan Norberg is refreshingly, but not glibly, optimistic. His excellent book documents the dramatic improvements in people's lives and reminds us of the huge potential for further progress – provided we are open to it.'
— Philippe Legrain, author of European Spring

'In this brightly written, upbeat book, the Swedish author blends facts, anecdotes, and official statistics to describe "humanity's triumph" in achieving the present unparalleled level of global living standards...While acknowledging the mayhem, hunger, and poverty still facing much of the world, the author remains optimistic that human ingenuity will prevail in shaping the future. A refreshingly rosy assessment of how far many of us have come from the days when life was uniformly nasty, brutish, and short.'
— Kirkus

'Excellent…Norberg's book comprehensively documents the myriad ways the state of humanity has vastly improved over the past couple of centuries.'
— Reason