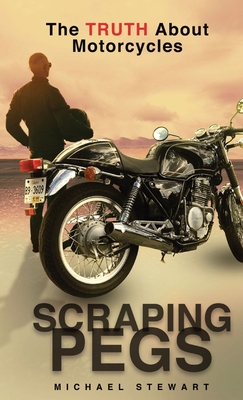 $26.95

Not Currently On The Shelf, But We Can Ship It To You In 3-5 Days
Description
---
Hang on With an off-beat sensibility, this bike ride may be bumpy.
From the deserts of the Middle East to the U.S. and Canada, Michael Stewart has chased the allure of motorcycles for much of his life. Through them came a wealth of experience, and this question: what is the truth about motorcycling? Told with humor and wit, Scraping Pegs is a bold narrative; including "rules" to help you survive the art of riding and life.
Press an experienced rider beyond their glory stories, and they'll tell you about the miles of nothingness. While showing off their road rash, they may share special moments, cruising down the road to joy, accelerating out of a corner, riding across desert sand, or up a mountain trail. The shift that happens before-motorcycle to on-motorcycle. The constant swing between nothingness and awareness that can happen when riding. The perfect ride doesn't last long, life is like that. There are disastrous mechanical failures, broken bones, weather battles, monotony, soured relationships, bad attitudes, and even death in store for some who seek to tame their wild beasts on iron horses. The worst rides make the best stories, they say.
Zen and the Art of Motorcycle Maintenance is an inquiry into values. Scraping Pegs is an inquiry into the other two fundamental questions of our time: how not to die and why ride? Riding is a quest, like life condensed in time. Is that the truth about motorcycles?
Kickstands up Enjoy the ride.