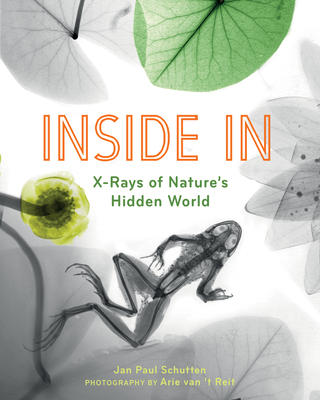 Staff Reviews
---
Charming, informative descriptions of various plants and animals. The real draw are the endlessly fascinating x-ray photographs expertly retouched and lightly colored to put life back into them. The animals are posed in dynamic ways, and set into scenes with accurate plants, showing elements that are easily missed.
— From
What Adri is Reading
Description
---
A perfect book for STEM learning: Kids ages 8-12 will love these creepy X-Rays of bugs, reptiles, mammals, and more
A Smithsonian Magazine Best Children's Book of the Year
Using incredible X-ray techniques, Inside In displays creatures and their natural habitats in a never-before-seen way. Kids will learn the awesome answers to questions like:
What does a bee look like under its furry coat?
How does a seahorse protect itself with armor and a skeleton?
How does a tree frog use its eyes to swallow?
This visually stunning and highly original book is perfect for keeping kids engaged during home-schooling and online learning:
X-ray images are cool and fun to look at
Simple text helps kids understand the animals and plants in each image.
Pops of neon colors make animals and plants come to life.
About the Author
---
Jan Paul Schutten has been writing children's nonfiction books since 2003. His books are popular and critically acclaimed; he has won several awards including the Gouden Griffel (Golden Stylus) for his book Children of Amsterdam. Arie van 't Riet is a Dutch artist and medical physicist who uses X-ray equipment to create "bioramas"--X-ray portraits of animals and plants. While teaching the physics of radiation and radiation safety, he became interested in the application of low-energy X-rays to capture delicate objects. Arie van 't Riet is "inspired by the unbelievable beauty of nature... and its wonderful complexity."