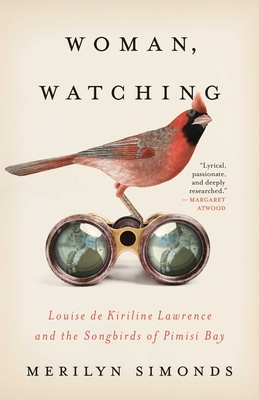 Staff Reviews
---
Simmonds writes of her friend, Louise de Kiriline Lawrence and the fascinating life she lead. From Sweden to Russian and eventually to Canada we learn of Louise's loves, losses, nursing and eventually her work as a naturalist. Well researched this is an engaging portrait of a pioneer Ornithologist. Great read if you enjoy bird watching or to learn about a female pioneer who deserves her story told.
— From
What Karin is Reading
Description
---
From award-winning author Merilyn Simonds, a remarkable biography of an extraordinary woman -- a Swedish aristocrat who survived the Russian Revolution to become an internationally renowned naturalist, one of the first to track the mid-century decline of songbirds.
2022 Foreword Indies Award Winner for the Editor's Choice Prize, non fiction
" A] lyrical, passionate, and deeply researched portrait." -- Margaret Atwood
"This brilliant account does justice to a pioneering figure who merits wider recognition." -- Publishers Weekly, starred review
" A] marvelous biography of a true pioneer of ornithology." -- Booklist, starred review
"Woman, Watching is an entrancing blend of biography, memoir, history, research, and homage that is unlike anything I've ever read. It's radical, it's ravishing." -- Kyo Maclear, author of Birds Art Life
Referred to as a Canadian Rachel Carson, Louise de Kiriline Lawrence lived and worked in an isolated log cabin near North Bay. After her husband was murdered by Bolsheviks, she refused her Swedish privilege and joined the Canadian Red Cross, visiting her northern Ontario patients by dogsled. When Elzire Dionne gave birth to five babies, Louise became nurse to the Dionne Quintuplets. Repulsed by the media circus, she retreated to her wilderness cabin, where she devoted herself to studying the birds that nested in her forest. Author of six books and scores of magazine stories, de Kiriline Lawrence and her "loghouse nest" became a Mecca for international ornithologists.
Lawrence was an old woman when Merilyn Simonds moved into the woods not far away. Their paths crossed, sparking Simonds's lifelong interest. A dedicated birder, Simonds brings her own songbird experiences from Canadian nesting grounds and Mexican wintering grounds to this deeply researched, engaging portrait of a uniquely fascinating woman.
About the Author
---
Merilyn Simonds is the author of 20 books, including the nonfiction classic The Convict Lover, Gutenberg's Fingerprint, and most recently, the novel Refuge. The founding artistic director of Kingston WritersFest, Simonds is an influential champion of writers and writing. She lives with writer and translator Wayne Grady and divides her time between Kingston, Ontario, and San Miguel de Allende, Mexico.