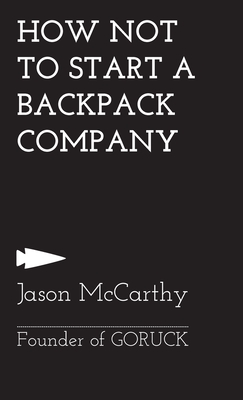 Description
---
Business, war, love and a world traveling chocolate lab named Java all converge on a 10,000 mile road trip taken by a former Green Beret trying to build something meaningful in America - but not yet knowing how to do it.
Great businesses don't always have great starts. In the summer of 2010, Green Beret Jason McCarthy was going through a divorce, separating from the military, and struggling with money issues. He used his new company GORUCK as an excuse to drive to all lower 48 states with his dog Java, to meet people and get into adventures, while searching for how to rebuild in America.
How Not To Start A Backpack Company is about losing your way, losing the love of your life, and finding your way back to both - the hard way. It's an intimate and raw look at the personal struggles that almost killed GORUCK long before it became a $100 million company. And above all, it's a story of the importance of chasing your dreams with everything you got, no matter the cost.
Direct from Jason:
In between years at Georgetown's McDonough School of Business, I decided not to pursue a traditional internship path. Instead, I drove around the county to all 48 contiguous states with my dog Java to pursue what was little more than a hobby at the time: GORUCK. I lost a bunch of money, didn't sell any backpacks, and everyone else who came with me left, but I had a great front row seat to watch my life burn down before my very eyes. The silver lining was that this trip became instrumental in turning things around because I was motivated to not live in flames.
This is not a traditional business or entrepreneurship book. There are a lot of pictures of the early days, a few pages from the original business plan (that I threw away), a journal I kept along the road that I never published, email exchanges with my then almost ex-wife, and some cautionary tales ... hell, it's almost one enormous cautionary tale. But above all I hope my story inspires others to NOT wait for the perfect time to follow their dreams, but just to get going and figure it out on the move. -JJM
Kathleen's Staff Picks