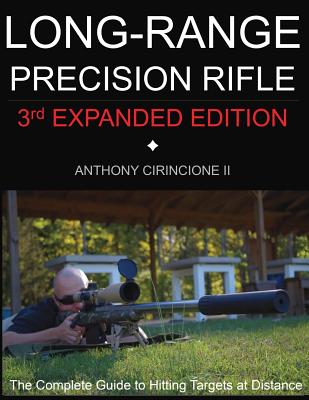 Description
---
ABOUT THE AUTHOR
Anthony Cirincione is a recognized subject matter expert in
the setup and use of the Precision Rifle. He is an avid "Long
Range Shooting" competitor and has years of military sniper
training and experience, including over 2 years of combat deployment
time in both Iraq and Afghanistan serving as a US
ARMY Sniper and sniper section leader. In addition, he has a
private training company that he instructs at when he is stateside.
IN THE AUTHORS WORDS
"While serving as the Sniper Section Leader of Tiger
Force/1-327 INF/1 BCT/101 ASSLT, I put together an outline of
concepts on which to train selectees who were slotted for
Sniper School. Another training outline I put together contained
"critical knowledge items" that needed to be understood
and implemented to allow the shooter to effectively operate
at a high level with his team. Upon leaving Tiger Force, I
fleshed out both outlines extensively and saw that so much of
this information could be extremely useful to the civilian
shooter. I remembered the struggle I had gone through when I
was looking for information and coming up empty-handed
many times. That was the genesis of the Long-Range Precision
Rifle."
THE 3RD REVISED EDITION
As time goes by new information, training, techniques, equipment,
skills, and much more are constantly becoming available
to the shooter. In order to provide the most up to date information
available, the author has gone through the book and
updated and replaced information where he saw fit to do so.
Any area where the information has remained the same was
left un-changed by the author because the information is still
as valuable today as it was the day it was printed in the first
edition and time has offered no improvement upon it.
ABOUT THE BOOK
The Long Range Precision Rifle: 3RD Expanded Edition contains
the most up-to-date information and methods for getting
the most accuracy out of your rifle. After discussing rifles, ammunition,
and optics selection, Cirincione outlines his
tried-and-true methods of gathering and recording data. He
takes you step by step through the process of making your
rifle perform to its peak potential through every shot. He also
instructs you on how to adjust for environmental factors and
obstructions that lie between you and your target, and proves
to you why handloading and making your own precision cartridges
is an essential step that is absolutely worth taking the
time to do.