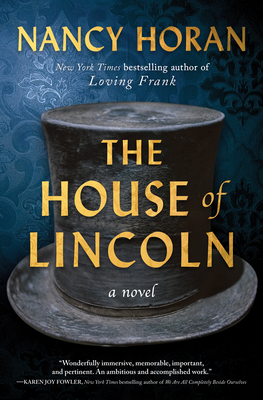 Description
---
An unprecedented view of Lincoln's Springfield from the acclaimed and bestselling author of Loving Frank.
Nancy Horan, author of the million-copy New York Times bestseller Loving Frank, returns with a sweeping historical novel, which tells the story of Abraham Lincoln's ascendance from rumpled lawyer to U.S. president to the Great Emancipator through the eyes of a young asylum-seeker who arrives in Lincoln's home of Springfield from Madeira, Portugal.
Showing intelligence beyond society's expectations, fourteen-year-old Ana Ferreira lands a job in the Lincoln household assisting Mary Lincoln with their boys and with the hostess duties borne by the wife of a rising political star. Ana bears witness to the evolution of Lincoln's views on equality and the Union and observes in full complexity the psyche and pain of his bold, polarizing wife, Mary.
Along with her African American friend Cal, Ana encounters the presence of the underground railroad in town and experiences personally how slavery is tearing apart her adopted country. Culminating in an eyewitness account of the little-known Springfield race riot of 1908, The House of Lincoln takes readers on a journey through the historic changes that reshaped America and that continue to reverberate today.
About the Author
---
Nancy Horan is the New York Times bestselling author of Loving Frank and Under the Wide and Starry Sky. Loving Frank remained on the NYT list for over a year, has been translated into sixteen languages and received the 2009 Prize for Historical Fiction from the Society of American Historians. A native Midwesterner, Horan was a teacher and journalist before turning to fiction. She lived for 25 years in Oak Park, Illinois, where she raised her two sons, and she now lives with her husband on an island in Puget Sound.
Praise For…
---
"A captivatingly sweeping historical novel centered on Abraham Lincoln, 19th-century Springfield, Illinois, and early American race relations…The House of Lincoln provides a compelling but tragic story, artfully conveyed by Horan who interweaves daily lives of various stripes with the glory and despair of 19th-century American history." — Historical Novel Society

"Tells of the period's political tumult, abolitionist fervor, and unchecked violence. With its smartly tuned dialogue and insistence on hope, the novel delivers a forceful, engrossing read." — Christian Science Monitor

"The book's greatest strength is its unexpected examination of racism in central Illinois, a state long associated with both the Underground Railroad and the Union...Horan has succeeded in illuminating an underconsidered segment of American history. By adding nuance to the history of Illinois in the years surrounding the Civil War, Horan foregrounds the era's complexity." — Kirkus Reviews

"This is a compelling reminder that events of the past are indelibly connected to attitudes that persist today." — Booklist

"Here, happily, is Nancy Horan doing once again what Nancy Horan does best – telling us the part of the story we don't yet know. Strong on fine detail yet cognizant of the expansive historical context, Horan's newest is wonderfully immersive, memorable, important, and pertinent. An ambitious and accomplished work." — Karen Joy Fowler, New York Times bestselling author of We Are All Completely Beside Ourselves

"The gifted Nancy Horan once again brings readers into a story -- inspired by real events -- that will forever change the way they perceive famous historical figures and their times. In the captivating and important The House of Lincoln, the young Portuguese immigrant Ana is hired to help in the Springfield, Illinois home of Abraham Lincoln as the Great Emancipator is on the rise. Through Ana's relationship with Lincoln's wife Mary and her close friendship with Cal, a free Black girl, the novel explores a lesser-known aspect of a crucial historical period." — Marie Benedict, New York Times bestselling author of The Only Woman in the Room 

"What a gift Nancy Horan has for conjuring the past and bringing it vividly to life! Here, she turns her considerable talents to Lincoln's strange road to the White House and the turbulence of his presidency, illuminating lesser-known perspectives and details that resonate eerily with our contemporary times. This is top-quality literary time-travel, and the trip is well worth taking." — Therese Fowler, New York Times bestselling author of A Well-Behaved Woman

"Brimming with a rich and unforgettable array of imagined and real historical figures who helped to shape Springfield, Illinois and the nation beyond during the turbulent time of slavery and the Civil War, The House of Lincoln is storytelling at its best." — Gail Tsukiyama, author of The Color of Air, The Samurai's Garden, and Women of the Silk

"Nancy Horan's nuanced portrait of Abraham Lincoln as his thoughts on emancipation evolve and her deft, revelatory use of narrators from marginalized communities enhance this compelling, beautifully crafted novel. The House of Lincoln evokes the past to illuminate the present as only the very best historical fiction can." — Jennifer Chiaverini, New York Times bestselling author of Mrs. Lincoln's Sisters

"Thoroughly researched and full of relevant and humanizing details that provide both local and national context…Should appeal to those who enjoy well-written fiction, readers with a historical bent, people curious about Springfield's past, and anyone looking for a good summer read. Of course, it would also be a good fall or winter read. But why wait?" — Illinois Times

"A well-written and engaging story of a turbulent time in American history. Both teens and adults can enjoy the book as a portrait of a significant era in American history." — The Winnipeg Free Press

"The historical tidbits in this tale are fascinating — the author has done her homework...a rich immersive experience." — Discover Our Coast