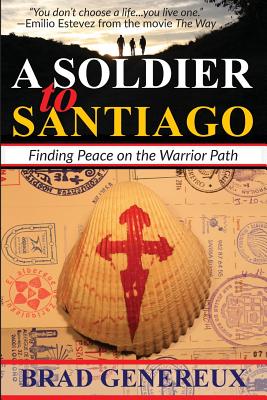 $14.99
Not Currently On The Shelf, But We Can Ship It To You In 3-5 Days
Description
---
Has life passed you by? And you fit in--nowhere?
"I gave the best years of my life to a cause--to a belief that proved false.
I loved living on the edge. The thrill of standing the watch.
Rushing into harm's way on behalf of my country.
For over 22 years and with pride, I represented America
by wearing the cloth of the nation.
When my service was all over? Life had passed me by and . . .
I fit in -- nowhere."
Senior Chief Petty Officer Brad Genereux
Is forgiveness and peace within the grasp of those who spent their lives pursuing the next mission on behalf of their country? Brad Genereux traces two parallel journeys--one through the inferno of war in Afghanistan, and the other through the healing purgatory of the Camino de Santiago. Juxtaposed between a combat zone and The Way of Saint James, experience two adventures and the two lives of one man. Willing to sacrifice his life to aid the Afghanis, Brad's candid account chronicles the challenges to carry out missions while operating under a complex chain of command, Afghani corruption, and deadly sabotage by the Taliban.
After Genereux retired from the military, he faced the arduous pursuit to assimilate into civilian life and to make sense of the unexpected deaths of three family members. Brad revisits dark demons imprisoning his spirit and the peace and healing unlocked on The Way of Saint James. A Soldier to Santiago: Finding Peace on the Warrior Path shadows the reflections of a war-hardened man devoid of identity and purpose and his search for answers, hope, and himself on a 769-kilometer trek over the Pyrenees and across northern Spain.
Are you searching for peace and purpose?
Experience the camaraderie of warriors deployed to the battlefield and the esprit de corps of Camino peregrinos as they triumph over the inner battles of the spirit. Are you suffering from isolation, hypervigilance, nightmares, or insomnia? Join Brad in the Spring or Fall on The Way to find peace on the warrior path.