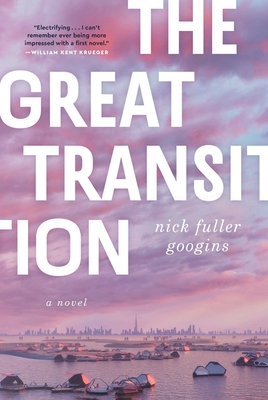 Staff Reviews
---
Wow! Googins has created a GREAT speculative cross-genre story. Society and innovation has saved the world from climate change. Now what? At the core this is a heart-rending family story with great characters. I loved the differing points of view and Googins cleverly tells of past and present through their voices. Themes of starting over, accountability and cooperation for the greater good are well done. This is a work of great visionary scope ultimately filled with hope. Good for anyone, especially if you liked Migrations or were a fan of Hunger Games.
— From
What Karin is Reading
August 2023 Indie Next List
---
"A beautiful story about rebuilding and sacrifice, in the name of love and in the face of disaster. This hopeful rendition of climate fiction will tug at heartstrings you didn't even know you had."
— Alden Zeff, Water Street Bookstore, Exeter, NH
Description
---
For fans of Station Eleven and The Last Thing He Told Me, this richly imaginative, immersive, and "profound" (Alice Elliott Dark, author of Fellowship Point) novel is the electrifying story of a family in crisis that unfolds against the backdrop of our near future.

Emi Vargas, whose parents helped save the world, is tired of being told how lucky she is to have been born after the climate crisis. But following the public assassination of a dozen climate criminals, Emi's mother, Kristina, disappears as a possible suspect, and Emi's illusions of utopia are shattered. A determined Emi and her father, Larch, journey from their home in Nuuk, Greenland to New York City, now a lightly populated storm-surge outpost built from the ruins of the former metropolis. But they aren't the only ones looking for Kristina.

Thirty years earlier, Larch first came to New York with a team of volunteers to save the city from rising waters and torrential storms. Kristina was on the frontlines of a different battle, fighting massive wildfires that ravaged the western United States. They became part of a movement that changed the world­—The Great Transition—forging a new society and finding each other in process.

Alternating between Emi's desperate search for her mother and a meticulously rendered, heart-stopping account of her parents' experiences during The Great Transition, this novel beautifully shows how our actions today determine our fate tomorrow. A triumphant debut, The Great Transition is a breathtaking rendering of our near future, told through the story of one family trying to protect each other and the place we all call home.
About the Author
---
Nick Fuller Googins has published short stories and essays in The Paris Review, the Los Angeles Times, The Southern Review, and elsewhere. He lives in Maine, and works as an elementary school teacher. The Great Transition is his first novel.
Praise For…
---
"Googins writes inspiring, vivid depictions of people putting aside their differences as they work to restore damaged habitats and put out massive forest fires in the novel's past. But "The Great Transition" shines especially in its nuanced exploration of generational trauma and denial." —The Washington Post

"The Great Transition sets itself apart through its visionary scope and possibility for change…Urgent but hopeful…an important read for those ready to advocate for future generations." —Chicago Review of Books

"Hopeful, bold, imaginative, and heartbreaking, The Great Transition lucidly shows the incredible capacity of utopian thinking to inspire and change lives, while addressing the devastating costs of climate inaction. I can't stop thinking about this visionary novel and its singular characters. Nick Fuller Googins has written a book for the present and the future — read this and you will be changed." —Michelle Min Sterling, New York Times bestselling author of Camp Zero

"A magnificent debut novel that's both an important cautionary tale and a deeply compelling family story. Although set in a stunningly well-imagined future in the aftermath of a climate apocalypse, The Great Transition is electrifyingly relevant. I can't remember ever being more impressed with a first novel." —William Kent Krueger, New York Times bestselling author of This Tender Land

"Nick Fuller Googins demonstrates exactly the kind of clear-eyed utopian thinking we'll need more of as we work together to solve our climate crisis, wrapping a call to action, accountability, and mutual aid in a story that's as thrilling as it is moving. Every worthwhile novel sets out to change its reader—this one sets out to change the world. I hope it does." —Matt Bell, author of Appleseed

"The Great Transition asks what it means to start over—as a society and as individuals—and then answers with visionary scope. Offering readers thrilling glimpses into utopic possibilities born from collective mobilization, as well as an unflinching assessment of our climate crisis, Nick Fuller Googins brilliantly renders the personal political and the political personal. A must-read debut that kept me enthralled and left me inspired." —Allegra Hyde, author of Eleutheria

"This book melds the huge and the intimate, the imperatives of our global climate crisis with the more compact narrative of a family trying to do right by one another when the world goes sideways. Fuller-Googins stares down some of today's biggest societal issues with abundant imagination and endless empathy." —Emily Nemens, author of The Cactus League

"This remarkable novel tells the story of a family trying to hold together after the world has shattered by a cataclysmic climate disaster. Nick Fuller Googins writes beautifully and knowledgeably about the speculative future while focusing on a compelling human story. I was moved by the enormous moral conviction at the heart of The Great Transition and its vision of the future, one that is full of human folly but ultimately offers hope. This is a profound work of great wisdom." —Alice Elliott Dark, author of Fellowship Point and In the Gloaming