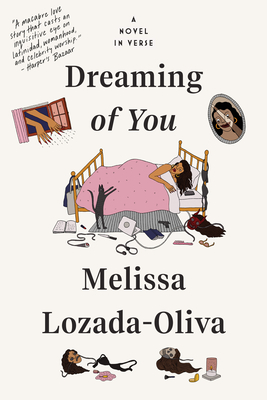 Description
---
NOW IN PAPERBACK FEATURING A SHORT STORY FROM THE FORTHCOMING COLLECTION BEYOND ALL REASONABLE DOUBT, JESUS IS ALIVE

"A macabre love story that casts an inquisitive eye on Latinidad, womanhood, and celebrity worship."
—Keely Weiss, Harper's Bazaar

"Melissa Lozada-Oliva's surreal novel-in-verse is sure to delight and surprise readers . . . 
You may know and love Selena's voice, but Lozada-Oliva's is utterly new, original, 
and worth hearing, too." —Elena Nicolaou, Oprah Daily

A macabre novel in verse of loss, longing, and identity crises following a poet who resurrects pop star Selena from the dead.

Melissa Lozada-Oliva's Dreaming of You is an absurd yet heartfelt examination of celebrity worship.
 
A young Latinx poet grappling with loneliness and heartache decides one day to bring Tejano pop star Selena Quintanilla back to life. The séance kicks off an uncanny trip narrated by a Greek chorus of gossiping spirits as she journeys through a dead celebrity prom, encounters her shadow self, and performs karaoke in hell.
 
In visceral poems embodying millennial angst, paragraph-long conversations overheard at her local coffeeshop, and unhinged Twitter rants, Lozada-Oliva reveals an eerie, sometimes gruesome, yet moving love story.
 
Playfully morbid and profoundly candid, an interrogation of Latinidad, womanhood, obsession, and disillusionment, Dreaming of You grapples with the cost of being seen for your truest self.
About the Author
---
Melissa Lozada-Oliva is the child of Guatemalan and Colombian immigrants. She co-hosts the podcast Say More and is a member of the band Meli and the Specs. She holds an MFA in poetry from NYU and her writing has been featured in Remezcla, PAPER, The Guardian, The BreakBeat Poets Vol. 4, Wirecutter, Vulture, Bustle, Glamour, The Huffington Post, Muzzle Magazine, The Poetry Project, Audible, and BBC Mundo. She is from Massachusetts and lives in New York City.
Praise For…
---
"Melissa Lozada Olivia's novel-in-verse Dreaming of You is the most beautiful love letter to Selena fans all over the world. . .Toeing the line between horror and magical realism, this will undoubtedly frighten as it will bring back memories and inspire joy."
—Sofía Aguilar, HipLatina

"Melissa Lozada-Oliva's surreal novel-in-verse is sure to delight and surprise readers . . . You may know and love Selena's voice, but Lozada-Oliva's is utterly new, original, and worth hearing, too."
—Elena Nicolaou, Oprah Daily

"A feverish story of young adulthood, exploring how fandom and obsession shape how we relate to the world . . . Dreaming of You navigates the complexities of Latinx identity, self-loathing, love, and the loneliness of drifting into adulthood."
—Miguel Salazar, Vulture

"A macabre love story that casts an inquisitive eye on Latinidad, womanhood, and celebrity worship."
—Keely Weiss, Harper's Bazaar

"The novel is narrated in verse, a device that could feel gimmicky in less capable hands than Lozada-Oliva's, but instead melds with the macabre-yet-gossipy subject matter to create an unforgettable portrait of a public figure who to many seemed larger than life."
—Emma Specter, Vogue

"One of the most original releases of the year Melissa Lozada-Oliva's surreal fusion of poetry and prose . . . [is] gruesome yet heartfelt, macabre yet intimate, brimming with life on every page."
—Chicago Review of Books

"Themes of celebrity, fandom, grief, queer identity, and loneliness feature in this novel in verse about a poet who resurrects Tejano pop star Selena. This story is as absurd and magical as it sounds."
—Casey Stepaniuk, Autostraddle

"A beautiful confluence of verse and prose . . . Organized into a four-act play, Dreaming of You pushes the limits of its verse-prose hybrid narrative form to explore the complexity of modern, generational immigrant identity of Latina women . . . The questions Lozada-Oliva's book presents are poignant: Is it possible to be part of a tribe without losing the self? And can this tribe be recollected into an American geography without losing the heritage of the Central and South American diasporas it comes from? Dreaming of You brilliantly challenges the limits of one's selfhood and reveals what's lost when it's contorted to fit the beholder's gaze."
—Michael Adam Carroll, Ploughshares

"With the intensity and fluidity of a fever dream, Lozada-Oliva situates the figure of the assassinated superstar—'a star I can only see because it has died'—alongside the protagonist Melissa's own self-narration. By reckoning with the complexities of celebrity, self-identity, citizenship, social media, and sisterhood, Lozada-Oliva names what it means to be both endangered and enraptured by hypervisibility; it is an invitation to 'make your own light,' to recast shadows."
—Jordan Taliha McDonald, Vulture

"Dreaming of You infuses this fandom subculture with the characteristics of a haunting—the past permeates the present, always on the cusp of breaking through the veil separating the living and the dead."
—Vanessa Willoughby, Bitch Media

"Poet and writer Melissa Lozada-Oliva is an unstoppable force within the poetry world." 
—Laysha Macedo, HipLatina

"At the center of this exploration of insecurities, joys, and identity stands Melissa Lozada-Oliva— an unapologetic poet who isn't afraid of the rawness of the mind and is resilient in her writing— so much so that it feels like we're talking to our best friend."
—Bianca Pérez, Porter House Review

"From Melissa's DIY-resurrection ritual, to a dead celebrity prom and karaoke in hell, Lozada-Oliva has created a feminist, post-modern, pop cultural Divine Comedy. Dreaming Of You dramatizes the ways identity is often influenced by imitation and a longing to be something more than yourself. This fever dream fiction is engaging and refreshing as it masterfully draws on and plays with genre and cultural tropes to encapsulate the idiosyncrasies of our relationship with celebrity, culture, and ourselves."
—Corrine Watson, West Trade Review

"Risks like these—the funny and weird and tender bits—make Dreaming of You striking. It is as much a totem of her twenties in Brooklyn as it is an ode to Selena. Lozada-Oliva calls herself back from the dead, reflects, integrates, moves on—in doing so, it forces us to do the same."
—E.R. Pulgar, Columbia Journal

"Obsessive, inventive, and exceedingly funny, Lozada-Oliva's debut sets a new platinum standard for a tricky genre."
—Diego Báez, Booklist

"Crackly and energetic, with poignancy beneath; for Latinx and millennial readers, plus poetry lovers interested in new voices."
—Library Journal

"An enjoyably madcap journey through the wasteland of fame, popular culture, and feminine identity in a post-colonial world."
—Kirkus Reviews, Starred Review

"Dreaming of You by Melissa Lozada-Olivia is the most pop-rock opera book I've ever read. It's a poetry collection, a memoir, and a song crafted as one. This is a book that cannot be categorized and any description is insufficient. But suffice it to say it's a book in verse about a poet who resurrects Selena from the dead. It's a zombie-horror-fantasy wet dream and let me tell you I am here for it! Each page reverberates with desire, grief and longing. There is a grotesque love affair unfolding on the page between the cast, Melissa, Selena and Yolanda that is awkward and unholy and ugly and full of tenderness and heart. Dreaming of You is a tribute to womanhood, identity and love. It's a book that redefines narrative, myth and magic and I will forever be haunted by Melissa's creation."
—Michelle Malonzo, Changing Hands Bookstore

"Tender and funny and relatable even if you're not into 'reading' or 'books' or 'poetry' or 'necromancy,' Dreaming of You is living and vivid and hideous and sweet and fearful and lovely."
—Zoey Walls, Harvard Bookstore

"Surreal and spooky . . . This hybrid collection highlights the limits of control over our own creations and asks us to consider whether we will ever learn how to lose."
—Layla Benitez-James, Harriet Books, the Poetry Foundation

"Lozada-Oliva has written something which defies explanation and will prompt many a conversation . . . Part dream, part surrealist nightmare, part existential dread, entirely beautiful, this novel will make you ask yourself the questions you've been avoiding about authenticity, celebrity, obsession, and loss." 
—ALA Over the Rainbow Recommended Short List

"Melissa Lozada-Oliva's kinetic, pop-operatic Dreaming of You is like some terrific amalgam of fan fiction and fantasy nonfiction; a Selena monograph made of memoir, myth and magic. Her partly satirical, partly ecstatic linguistics constitute a whole other sort of literary hybrid. And, while I strain to describe Lozada-Oliva's virtuosity, I want to very plainly say, at the heart of it all, Dreaming of You is a collection of moving, mercurial poems. Melissa Lozada-Oliva is truly a singular new voice."
—Terrance Hayes, National Book Award-winning author of Lighthead

"Dazzling, playful, and likely to break your heart at least twice. I love Dreaming of You five-hundred times as much as I hate writing blurbs. Melissa Lozada-Oliva is a magician."
—Kelly Link, author of Get in Trouble

"Some use the term 'confessional poetry' to disparage the writer. However, there is a craft to revealing a secret. Ask your favorite chismoso. Melissa Lozada-Oliva's Dreaming of You is a delight to read because Lozada-Oliva knows how to make awkwardness flinch, how to make crushes flutter, and how to make despair cry. Melissa Lozada-Oliva is the poet laureate of chisme."
—José Olivarez, author of Citizen Illegal

"Like pop stardom, Melissa Lozada-Oliva's Dreaming of You is all truth and all fiction, all at once; something we imagined and something we survived, the same way a girl we're in love with is a girl we made up. I'm talking about both Selena and Melissa, I'm talking about Melissa the protagonist and Melissa the author, I'm talking about ghosts and heroes and ex-lovers and ourselves. Mostly, I'm saying that this collection, a macabre carnival, heals reality by distorting it, calls memory what it is: a funhouse, a roomful of mirrors where you can't tell if the person you made out with was your crush or yourself, to which Lozada-Oliva shrugs and says, What's the difference?"
—Olivia Gatwood, author of Life of the Party

"Dreaming of You is a party. One of those unforgettable ones, where everyone who is haunted encounters their ghosts and has a good time. Only in Melissa Lozada-Oliva's beautiful, irreverent voice can we resurrect the beloved Selena in a seance gone wrong; only in her voice can we dance with dead celebrities, encounter the 'You' in the poem, get ghosted by our ghosts, or break Yolanda out of prison. Delightful, dark, funny, perverse, loving—the poems that make up this novel are so alive, and so modern, they pulse."
—Sally Wen Mao, author of Oculus

"Dreaming of You is as warm and frank as your big sister giving you the real sex talk. It understands perfectly the singular agony of girlhood. To read it is to fall in love—with Selena, with the author, with all the unbound violent joy of which only girls are capable."
—Rax King, author of Tacky

"Thank god for Melissa Lozada-Oliva! Dreaming of You is a mystical, hungry, thumping heart; it's funny and haunting and will be alive long after we are all dead and gone."
—Catherine Cohen, comedian and co-host of Seek Treatment

"Dreaming of You is fearlessly open, so friendly in its darknesses, beckoning again and again for us to come on in, to join this buoyant writer as she lets her imagination excavate feeling, examine celebrity, connections, lonelinesses and the oddities and beauties that become us."
—Aimee Bender, author of The Particular Sadness of Lemon Cake