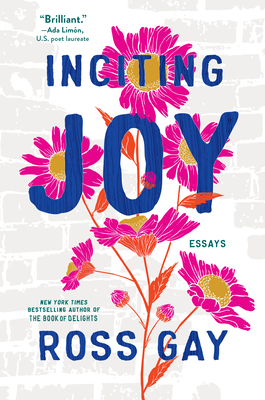 $27.00

Not Currently On The Shelf, But We Can Ship It To You In 3-5 Days
Staff Reviews
---
Wow, I just love Ross Gay's writing so darn much. I've been a huge fan of his since reading Book of Delights, so I was elated to hear that he had another essay collection coming out; and I think this one might be even better. With his signature eclectic and thoughtful language Gay meditates on what incites, or brings about, joy, and perhaps even more important, what joy incites, a.k.a. what impacts we have on the world around us when we are joyful. Every single human should read this book, either cover to cover like me, or savor it essay by essay, it might just be the healing balm or breath of fresh air you've been searching for.
— From
What Ali Is Reading
November 2022 Indie Next List
---
"The Book of Delights author returns with a new essay collection — a meditation on the ways ordinary life, and particularly a life of community and compassion, can spark joy. The writing is free-flowing and spontaneous — just as joy can be."
— Barbara de WIlde, Frenchtown Bookshop, Frenchtown, NJ
Description
---
From Ross Gay, the New York Times bestselling author of The Book of Delights, comes an intimate and electrifying collection of essays about the joy that comes from connection. "BRILLIANT." —Ada Limón, U.S. poet laureate
 
In these gorgeously written and timely pieces, prizewinning poet and author Gay considers the joy we incite when we care for each other, especially during life's inevitable hardships. Throughout Inciting Joy, he explores how we can practice recognizing that connection, and also, crucially, how we can expand it.
 
In "We Kin," Gay thinks about the garden (es­pecially around August, when the zucchini and tomatoes come in) as a laboratory of mutual aid; in "Share Your Bucket," he explores skateboard­ing's reclamation of public spaces; he considers the costs of masculinity in "Grief Suite"; and in "Through My Tears I Saw," he recognizes what was healed in caring for his father as he was dying.
 
In an era when divisive voices take up so much airspace, Inciting Joy offers a vital alternative: What might be possible if we turn our attention to what brings us together, to what we love?
 
Taking a clear-eyed look at injustice, political polarization, and the destruction of the natural world, Gay shows us how we might resist, how the study of joy might lead us to a wild, unpredictable, transgressive, and unboundaried solidarity. In fact, it just might help us survive.

"A gift that's meant to be shared  . . . [This book] inspires us to look beyond the miseries of our era to envision a more welcoming future."―The Washington Post
About the Author
---
Ross Gay is the New York Times bestselling author of The Book of Delights: Essays and four books of poetry. His Catalog of Unabashed Gratitude won the 2015 National Book Critics Circle Award and the 2016 Kingsley Tufts Poetry Award, and was a finalist for the National Book Award; and Be Holding won the 2021 PEN America Jean Stein Book Award. He is a founding board member of the Bloomington Community Orchard, a non-profit, free-fruit-for-all food justice and joy project. Gay has received fellowships from Cave Canem, the Bread Loaf Writer's Conference, and the Guggenheim Foundation. He teaches at Indiana University.
 
Praise For…
---
"Inciting Joy is a book that will break your heart. Ross Gay will break your heart. He will break it and advocate for breaking it over and over. Why? So we can choose our life, our survival, our full humanity. Inciting Joy is brilliant because it's not just a book; it's proof that the way we carve out room for joy is by acknowledging our constant teacher: sorrow."—Ada Limón, U.S. Poet Laureate

"A raucous affair, with dancing, fabulous covers of all your favorite songs, tons of food, a backyard full of folks… and all their sorrows, too… these essays are arguments embedded in stories that stretch like rubber bands around the topics of laughter, basketball, skateboarding, gardening, time, dying, music, gratitude, and dancing. It's impossible to read them without feeling a shift in your awareness of joy and its unexpected possibilities."—The Boston Globe

"A gift that's meant to be shared… inspires us to look beyond the miseries of our era to envision a more welcoming future, Gay… offer[s] a concept of joy akin to what Audre Lorde conceptualized in her essay 'Uses of the Erotic: The Erotic as Power.' Get yourself a copy of Inciting Joy, then gift yourself the great pleasure of giving it away."—The Washington Post

"Another thoughtful, compassionate, and timely essay collection that focuses on the deeper meaning of joy. It's a tender and reflective collection that is sure to sit with you long after you finish."—BuzzFeed

"[Inciting Joy] offers a rigorous and candid examination, or "Incitements," of what it means to pay attention and study what brings us joy, even as we understand and accept its entanglement of sorrows. It's a manifesto, a movement – a magnificent showcase of Ross's descriptive and digressive powers – and at its thrumming, galloping core, it's "a practice of survival."—Poets & Writers

"This is instantly one of my favorite books ever. A wondering-aloud to which I will be returning often, and a brilliant manifesto making a case for joy as a thing which is as complex and rigorous as it is lovely and free. In that sneaky way Ross Gay has of lovingly disarming you before getting you to dwell in rooms of your heart you'd left vacant, Inciting Joy uses its titular emotion as a window into sorrow and rage, into gifts and loss, into the tricky business of being alive."—Eve L. Ewing, author of Ghosts in The Schoolyard, Electric Arches, and Marvel Comic's Ironheart series

"In essays that are lyrical, pensive, and surprising, poet Gay sheds light on all the places joy can lurk […] Gay's a remarkable writer, and the collection makes for a spellbinding meditation on the ways joy deepens and grows in the company of grief, fear, and loss."—Publishers Weekly (Best Book of 2022: Nonfiction)

"Ross Gay is as insightful and lyrical as an essayist as he is as a poet. His essays are as trenchant as they are moving, finding in the minutiae of life the grand themes of human existence."
 —Chris Hedges, Pulitzer Prize-winner and author of War is Force that Gives Us Meaning and America: The Farewell Tour

"The award-winning poet considers joy – how we incite it, how we can expand it and most importantly, how we experience it by caring for others – in this timely collection that defies divisiveness."—USA Today

"He is many things—an award-winning essayist and poet, but also a community gardener and former basketball coach—and these roles are the details that till the soil of what blooms in his writing. Gay exudes a generosity of spirit. It's true in person and on the page, evidenced in his newest collection of essays, Inciting Joy."—The Rumpus (November Book Club Selection)

"Stunning…Gay's curiosity is present on every page and his precise yet playful prose sparkles…This resonant, vivid meditation shouldn't be missed."—Publishers Weekly (starred review)

"Gay profoundly demonstrates that not only could he write about joy, perhaps we all should be thinking about it, pursuing it, creating it, inciting it in our lives. These essays are intellectually rigorous… His prose is constantly engaging…"—BookReporter.com

"Gorgeously written and timely pieces… Full of energy, curiosity, and compassion, Inciting Joy is essential reading from one of our most brilliant writers. Pick this up to feel lighter and more gracious all around."—Book Riot

"These essays…clearly evidence his love of language, wordplay, and rhythm. [They] offer a new, thought-provoking way to view our society and future."—San Francisco Book Review

"These beautiful, insightful essays explore racism, death, the joy of being in a community and interacting with the natural world."​—JewishBoston.com

"Ross Gay's work throws off so much light, I've often wondered if it was powered by a superior energy source. He has done something new and beautiful with Inciting Joy. He has sunk a bioluminescent depth-charge into our time, one which peers into the whole sea of experience around us: revealing it full of connection, mystery and a longing for relief."—John Freeman, founder of Freeman's literary magazine and editor of The Penguin Book of the Modern American Short Story

"In this masterful, raw, and stirring collection of essays, Ross Gay has once again coaxed his readers to awaken to our full humanity. There is no way to dance through these vivid and skillful recollections of life's truest moments—planting a community orchard, witnessing a loved one pass away, eating your first fresh fig—without emerging misty eyed at the hallowed beauty of what it is to be alive. Ross Gay helps us to understand that our joy and pain are fundamentally tangled up with each other, and when we can invite sorrow close to share a proverbial cup of tea, that is when our deepest joy is incited. In caring for one another, in paying attention to what we mourn and love in common, in emulating the generosity of the garden, in inhabiting our sacred and unpayable debt to the earth—therein lies our kinship and the possibility of collective joy and liberation. Inciting Joy will make you gasp in wonderment as your truest truths are laid bare, and you will go back and reread the lines over and over, whispering, 'This, yes, this!'"—Leah Penniman, co-founder of Soul Fire Farm and author of Farming While Black

"Powerful. Perhaps the highest praise I can offer for Inciting Joy is that…it sparked a delightful conversation about the wealth of stories, characters, memories and subjects the book undertakes, building upon one another to create such a rich biodiversity on the page that I often found myself reading passages multiple times just to make sure I'd absorbed every detail."​—BookPage

"Gay's poetically influenced prose is nothing short of joyful. Blending the serious and the playful, this essay collection incites joy with writings about a wide range of actions and places . . . his essays have a through line of offering the deeply personal and speaking truth to power . . . Gay's pedagogy, explained in detail, disrupts the systems that are baseline incongruent with joy, as does his writing, in every sentence."

 —Booklist

"In a series of essays on such disparate themes as skateboarding, grief, pickup basketball, cover songs, orchards, death, and school, Gay expounds on his thesis, beautifully stated in the book's introduction: joy, emerging from our shared human experience of sorrow, can provoke new solidarities, leading to love, to survival, to change that looks like shared flourishing."—Ploughshares

"Gay is a treasure, and his latest offering will delight his fans as well as those new to his work."—Library Journal

"Ross Gay has a single-minded focus: making the world a better place. …energetic… full-length essays that showcase the breadth of his interests and the vibrancy of his prose. … a consistently uplifting book. This lively set of 14 essays from a talented poet considers how to bring more joy to our lives."
 —Shelf Awareness

"With language that skips along like a game of hopscotch, Inciting Joy promises to deliver heart-swelling insights into life, death and the joyful necessity of interdependence."
 —BookPage, Most Anticipated Books of the Fall

"Ross Gay has become a sort of pied piper for joy. He studies it in his own life, and beautifully writes both of its complexity—how one must welcome sorrow to truly feel joy's expansive width—and of its simplicity…"—BOMB Magazine

"Each piece reinforces the theme that when we look out for one another, the outcome is joy."—TheRoot.com

"Written over the course of the pandemic, Gay ponders joy, defining it less as the absence of sorrow and rather as our response to it."—CNN.com

"Warm, candid … breezy and soulful… A pleasingly digressive and intimate memoir in essays."—Kirkus Reviews

"A tendril unfurled from his infinitely life-affirming The Book of Delights."—The Marginalian by Maria Popova

"Gay is able to write so beautifully and leaves the reader unable to put the book down!"—Her Campus

"Gay is a true ray of sunshine in an often dark world. He sees the world for what it is and finds the joy and delight in it with intelligence, generosity and insight."—San Francisco Chronicle

"Enthusiastic and generous… Inciting Joy cries out to be heard, to be read aloud in the author's own emphatic voice. So, keep an eye out — rather, an ear open — for the audiobook. It may be the best way to extract maximum joy from this work."—Washington Independent Review of Books

"Another dazzling collection of lyric essays… it thrilled me every time a long passage took me for a ride to somewhere I couldn't previously imagine. Just as satisfying are his footnotes, some of which contain entire sub-essays tucked away at the bottom of the pages, like treasures waiting to be discovered."—Salon.com

"Gay's gorgeous, conversational storytelling builds into a politically incisive manifesto which brings sharp focus to what is essential in our human quest for love and connection. I want to give this book to everyone I know."—The Harvard Gazette

"As you might expect from a poet, Gay's essays are rendered in careful and evocative prose. In keeping with his inquiry, they are at times filled with happiness and, at other times, thick with grief. Throughout it all, they are powerful."—Book Riot