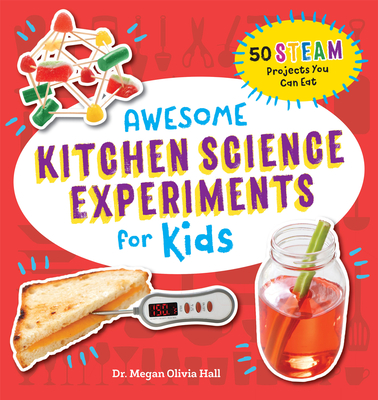 $14.99
Not Currently On The Shelf, But We Can Ship It To You In 3-5 Days
Description
---
Fun and edible at-home science experiments for kids ages 5 to 10
Science is always happening all around us Not just in laboratories and schools but also in parks, restaurants, and even your home. Whether you're looking to encourage engineering for kids, physics for kids, or any kind of science learning, this book brings the excitement of scientific investigation to your kitchen.
From flaming cheese puffs to solar-powered s'mores, discover a heaping helping of food-related experiments that kids can (literally) sink their teeth into. Each of these edible science experiments for kids comes with easy-to-follow instructions as well as ratings for difficulty and mess so adults know how much they need to supervise.
50 Snack-worthy experiments-Show kids science in action with tons of experiments they can try (and taste) themselves.
A complete introduction to STEAMKids will eat their way through experiments organized into five chapters, each focused on science, technology, engineering, art, or math.
Fun and educational for everyoneWhether it's your child's first time experimenting in the kitchen or they've already got some cooking experience, this book will keep them engaged, curious, and safe.
Hungry for scientific exploration? Dig in with this book of delicious and educational science experiments for kids.