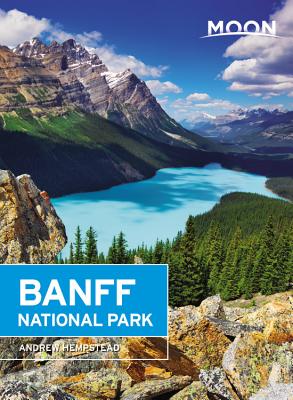 Description
---
Find Your Adventure with Moon Travel Guides!

Banff sparkles as the crown jewel of Canada's national parks. Explore the best of it with Moon Banff National Park.

Inside you'll find:
Strategic, flexible itineraries designed for day hikers, winter visitors, families with kids, campers, and more
The top experiences and unique ideas for exploring Banff: Ride over the snow in a horse-drawn sleigh or through the sky in a mountain gondola. Follow the vast network of hiking trails along glacial valleys, and discover alpine lakes and spectacular vistas. Soak in a natural hot spring, treat yourself at a luxurious mountain resort, or discover the park's history at one of Banff's excellent museums. Grab a cup of coffee at a local shop, or experience the town's classic après-ski nightlife
Expert tips for hiking, biking, skiing, and more, plus essential packing and health and safety information
Detailed hike descriptions with mileage, elevation gains, difficulty ratings, and trailhead directions
The best places to spot wildlife like black bears, elk, and bighorn sheep
Valuable insight from seasoned explorer and Banff local Andrew Hempstead
Honest advice on when to go and where to stay inside and outside the park, from gorgeous mountain lodges to secluded campgrounds,
Up-to-date information on park fees, passes, and reservations, and strategies for get to Banff National Park
Full-color photos and detailed maps throughout
Recommendations for families, international visitors, and travelers with disabilities
Thorough background on the wildlife, terrain, culture, and history
With Moon Banff National Park's expert advice, myriad activities, and local know-how, you can plan your trip your way.
Exploring more of Canada's great outdoors? Try
Moon Canadian Rockies
. Hitting the road? Try
Moon Vancouver & Canadian Rockies Road Trip
.
About the Author
---
As a professional travel writer, Andrew Hempstead spends as much time as possible on the road, traveling incognito, experiencing the many and varied delights of each destination just as his readers do. He looks forward to spending every second summer at home in the Canadian Rockies, traveling mountain highways and hiking trails, exploring new places, and updating old favorites.

Since the early 1990s, Andrew has authored and updated more than 60 guidebooks, and supplied content for regional and national clients like Expedia and KLM. His photography has appeared in a wide variety of media, ranging from international golf magazines to a Ripley's Believe it or Not! Museum.

Andrew and his wife, Dianne, own Summerthought Publishing, a Canadian regional publisher of nonfiction books. He is a member of The Diners Club® World's 50 Best Restaurants Academy. Andrew has also spoken on travel writing to a national audience and has contributed to a university-level travel writing textbook.

Andrew and his family live in Banff, Alberta.