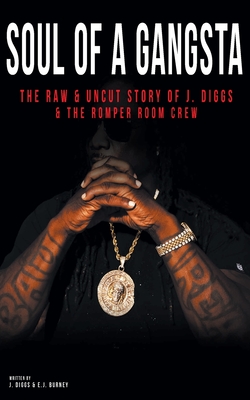 $29.95

Not Currently On The Shelf, But We Can Ship It To You In 3-5 Days
Description
---
Hip-hop artist, documentary producer, and president of the largest independent record label in the country, J. Diggs brings America the tale of two conspiracies. Survivor of eight different federal penitentiaries in ten years, a man who was convicted for conspiracy to commit armed bank robbery, BET's youngest American Gangsta, Diggs gives you the raw and uncut tales of hustling in the '80s, vivid accounts of bank robberies, prison stories, and the struggles of returning to his hood, the notorious Crest, located in California's Bay Area.
With the riveting stories that tell of ups, downs, years of fighting to rebuild his life after prison, the loss of his friend and hip-hop icon MacDre, and the ongoing battle to keep his freedom, Soul of a Gangsta reads more like fiction.
Soul of a Gangsta allows you a glimpse into the life of J. Diggs, the artist, the producer, the entrepreneur, the survivor, and the family man. Walk through the streets of crack dealing, murder, armed bank robberies, prison, riots, shoot-outs, and prostitutes--a past that will finally be revealed to the world through this autobiography, which tells the story of two worlds and a young Black man's fight to rebuild his life.