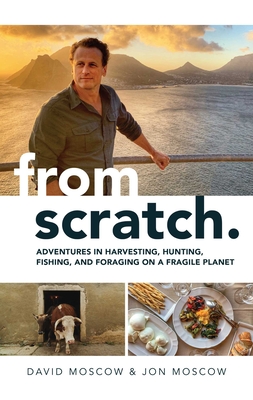 Description
---
PUBLISHERS WEEKLY BESTSELLER

Gold Award Winner in "Food, Cooking, & Healthy Eating" Category of the the Nautilus Awards

"Unadulterated, smart, beautifully rendered, and often thrilling… This is delicious, adventuresome entertainment for the mind, soul, heart, and stomach." —Kirkus Review

"Adventurous Anthony Bourdain-esque eaters and readers will savor David Moscow's every word as he travels far (Ciao, sea of Sardinia) and near (howdy, Texas plains) to learn from farmers, hunters, fisherfolk, and scientists about how our food reaches our plates." —Reader's Digest

David Moscow, the creator and star of the groundbreaking series From Scratch, takes us on an exploration of our planet's complex and interconnected food supply, showing us where our food comes from and why it matters in his new book of global culinary adventures.

In an effort to help us reconnect with the food that sustains our lives, David Moscow has spent four years going around the world, meeting with rock-star chefs, and sourcing ingredients within local food ecosystems—experiences taking place in over twenty countries that include milking a water buffalo to make mozzarella for pizza in Italy; harvesting oysters in Long Island Sound and honey from wild bees in Kenya; and making patis in the Philippines, beer in Malta, and sea salt in Iceland.

Moscow takes us on deep dives (sometimes literally) with fisherfolk, farmers, scientists, community activists, historians, hunters, and more, bringing back stories of the communities, workers, and environments involved—some thriving, some in jeopardy, all interconnected with food.

The result is this travel journal that marvels in the world around us while simultaneously examining the environmental issues, cultural concerns, and overlooked histories intertwined with the food we eat to survive and thrive. Through the people who harvest, hunt, fish, and forage each day, we come to understand today's reality and tomorrow's risks and possibilities.
About the Author
---
David Moscow is the creator, executive producer, and host of From Scratch. David made his feature film debut at age thirteen in Big, starring as the young Tom Hanks; soon after, he starred with Christian Bale in Newsies. He has appeared in dozens of films, television shows, and theater productions over a thirty-five year career.

Most recently, David founded the production company UnLTD Pictures. He has executive produced more than twenty feature films, including Under the Silver Lake, To Dust, Strawberry Mansion, and Wild Nights with Emily. He also directed the thriller Desolation.

David currently lives in LA with his wife and son—and develops mixed-income sustainably green apartment buildings in NYC.

Jon Moscow is David's father, creative partner, and a writer on From Scratch. He is co-executive director of Ethics in Education Network and co-host of the Ethical Schools podcast (ethicalschools.org). He actively works to support asylum seekers with housing and links to social services. He has a BA in International Studies from Reed College and a master's degree from Bank Street College of Education. He and David's mother, Pat, live in Teaneck, NJ, with a Shih-Tzu named Niki.
Praise For…
---
"The Moscows have a very engaging voice—readable, informative, and capable of weaving complex information into a captivating narrative, sprinkling sugar on the hard-core information of the story. I was engaged, entertained, informed and pulled along by this tour de force. Bravo!"
— LynNell Hancock, Professor, Columbia Graduate School of Journalism and Director, Spencer Education Fellowship

"You don't need to be some kind of foodie to find this book tasty…and just brilliant."
— Greg Palast, New York Times Bestselling Author of The Best Democracy Money Can Buy and other books

"Perhaps because David is not a culinary insider—not a chef or a farmer or a hunter—the result is something as accessible as it is adventurous. As someone who has actually been in the field with David, I can say that this book wonderfully captures the feeling of being right beside him on his wild, educational, surprisingly humorous, and often shocking adventures."
— Clay Jeter, Director, Emmy-nominated Netflix series Chef's Table

"I'm still rocking in the wake of reading From Scratch, an all-out adventure of food exploration and education. With a food system that increasingly denies the existence of seasons, it's an urgent reminder of where our food comes from. The Moscows bring the ancient human art of feeding ourselves back into consciousness."
— Chef Dan Barber, Blue Hill at Stone Barns

"I was prepared not to like this. Oysters? Who gives a shit? But it's great—like reading an episode of a really good food show, and being taken behind the scenes and somewhere you have never been. The shit really pops. Great stuff."
— Jeff Pearlman, New York Times Bestselling Author of Showtime: Magic, Kareem, Riley, and the Los Angeles Lakers Dynasty of the 1980s and other books

"I loved it...(it's) both highly educational and highly entertaining. And mighty fine writing. The history lessons are rich and layered, but very accessible. And so is the personal narrative."
— Kevin Powell, Writer, Civil and Human Rights Activist

"From Scratch is a fascinating and necessary book making the connection between global food production, climate and environmental devastation, and disease. Combining science, history, social, and culinary commentary, David and Jon Moscow point to the limitations of a consumer-driven, instant-gratification food culture, and invite us to return to the wonder and integrity of the full food cycle—from scratch to finish; honoring time-intensive processes necessary for both our personal and collective well-being."
— Adjoa Jones de Almeida, Deputy Director for Learning & Social Impact, Brooklyn Museum