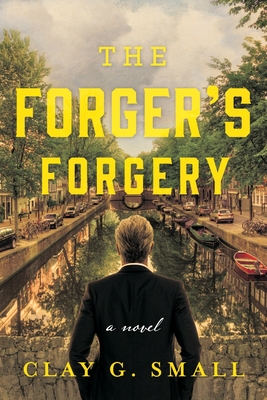 $15.95

Not Currently On The Shelf, But We Can Ship It To You In 3-5 Days
Description
---
When Art Mimics Life, Somebody's Going to Get What's Coming to Them
Henry Lindon's flight across the north Atlantic was turbulent and sleepless. His plane has just touched down in Amsterdam, where he's come to work as a visiting professor. Lindon is torn about leaving his troubled wife, Marylou, behind in Dallas, but relieved and excited to start a new chapter in a lively city. The taxi drops him off at an elegant building at Roetersstraat 8-1, where he's greeted by his university liaison and soon-to-be neighbor, the lovely and spunky art professor, Bernadette Gordon. After settling into his apartment, Lindon changes clothes and sets out to explore canals and caf's, wondering what the dinner invitation from Bernadette means for his fresh start.
But troubles from the past soon cross the Atlantic. Lindon discovers that notorious Dutch art forger Han van Meegeren, born in 1899, is about to play a part in Lindon's own personal drama. With evil closing in, Lindon, Bernadette, and Marylou find that secrets of the art world may hold the key to settling old scores and putting a predator away for good.
Whether you are familiar with the world of Henry Lindon from author Clay Small's first book, Heels Over Head, or this is your introduction to his works, you're in for an exciting and unusual international adventure with characters that will live on in your memory long after you've finished the book.
About the Author
---
During his thirty-year career at PepsiCo, Inc., Clay G. Small was General Counsel of nearly all of PepsiCo's current and former divisions, including Frito-Lay, Pepsi-Cola, Pizza Hut, Kentucky Fried Chicken, and PepsiCo Wines & Spirits. He worked as Senior Vice President – Managing Attorney, PepsiCo, Inc. In that position, he was responsible for all legal matters arising out of PepsiCo's global operating divisions. Clay received his JD from Southern Methodist University (member of Law Review and Barristers) in Dallas and received his BA in English from Ohio Wesleyan University, where he was a two-time all-American soccer player and drafted by The Dallas Tornado. Clay is also a Fellow of the Dallas Bar Association. He has come full circle returning to SMU as a Professor in the Cox School of Business and is also a member of the Law School Executive Committee. Informed by his experiences as a husband, father, professor, executive, and world traveler, Clay has shaped multidimensional characters and thrilling storylines in his two novels, Heels over Head and The Forger's Forgery bringing readers to the front lines of human engagement.