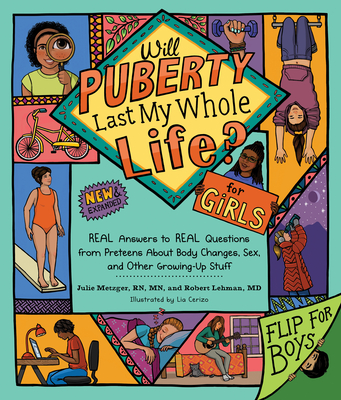 $18.99

Not Currently On The Shelf, But We Can Ship It To You In 3-5 Days
Description
---
An expanded and revised edition of the popular flip book for preteens. One half of the book is filled with questions commonly asked by girls entering puberty, and the other half with questions asked by boys.

"If you can only afford one book on puberty for this age group, this is the one to have."
--School Library Journal

This book contains informative, honest, and reassuring answers to questions that preadolescents have about puberty--from friendships and feelings, to pimples, babies, body hair, menstruation, bras, and much more. Straightforward, age-appropriate answers are provided by an experienced nurse-and-physician team who have been giving seminars to preteens and their parents throughout the Pacific Northwest and Bay Area for more than 25 years. Each question in the book has been asked by kids during their classes (many of them frequently). This new edition also contains updated language throughout and additional questions and answers regarding sex, sexuality, consent, and gender identity and norms.

The book is also filled with lighthearted and often humorous full-color illustrations throughout.
About the Author
---
Julie Metzger is a registered nurse with a master's degree in pediatric nursing. She has worked extensively in the fields of parent education on adolescent development, sexuality, parenting, and communication between parent and child, and is she a favorite speaker to a wide array of community groups and schools on all aspects of preteen health issues. Along with coauthor Dr. Robert Lehman, she founded the Great Conversations speaking series. She lives in Seattle, WA.

Dr. Robert Lehman is an adolescent health specialist with a clinical faculty position at the University of Washington. In addition to teaching Great Conversations classes, he has devoted his career to providing direct health care services to youth, teaching health care professionals about the special needs of adolescents, and addressing teen health issues and policies on local, regional, and national levels. He lives in Seattle, WA, and Palm Springs, CA.
Praise For…
---
"If you can only afford one book on puberty for this age group, this is the one to have."--School Library Journal, Starred Review

"The dos-à-dos format (girls' queries on one side, boys' on the other) has the advantage of allowing readers to concentrate on their own issues but also to explore the ways others think."--Kirkus Reviews, starred

For more than two decades the UW grad and registered nurse [Julie Metzger] has taught a two-night class on puberty and sexuality that's become a rite of passage for preteen girls and their mothers in Seattle, and along the way she's fielded thousands of queries—some funny, some poignant, and all fascinating glimpses of the hormone-addled minds of kids. This spring she and Dr. Rob Lehman (he teaches the class to boys and their dads) answer nearly 400 of them in their first book, Will Puberty Last My Whole Life? (Spoiler alert: The answer to that one, mercifully, is no.)
Seattle Metropolitan

...pick up the book Will Puberty Last My Whole Life? by Julie Metzger, RN, MN, and Robert Lehman, MD. They've collaborated to answer the questions most children have about what is going to happen to their bodies... If your child has a question, the answer is most likely in this book... Growing up, puberty can feel like the most confusing and embarrassing thing ever. Probably the best asset of this book is the explanation about normalcy. There is a constant emphasis that no matter how awkward and embarrassed they feel, what they are going through is a totally normal part of life.
Cafe Mom

A lively, well-designed manual on puberty and sex, designed for preteens.
The Seattle Times 

What's cool about this book is it's for boys and girls, so you flip it and you get questions from each...Great advice and an interesting topic.
Q13 Fox, Seattle