The Meaning of Human Existence (Paperback)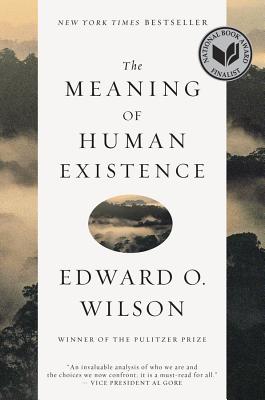 Staff Reviews
---
History, art, and of course religion all aim to place humanity in context. Who are we? Where did we come from? Where are we going? How do we live in this world? Can we live beyond this world? The Meaning of Human Existence proposes that the existing models to analyze ourselves are lacking. For Wilson, our species is a product of our evolution. We are as we are because the natural world, pressures, and shear chance molded us. As humanity takes ever greater control of our biological destiny by changing our environment, changing the pressures to which we are subject, and even changing our genetic code, Wilson believes it is imperative that we understand the humans we are creating. An engaging and though provoking set of essays poised at a tipping point in human history.
— From
What Christopher is reading
Description
---
New York Times Bestseller

Finalist for the National Book Award (Nonfiction)

How did humanity originate and why does a species like ours exist on this planet? Do we have a special place, even a destiny in the universe? Where are we going, and perhaps, the most difficult question of all, "Why?"
In
The Meaning of Human Existence
, his most philosophical work to date, Pulitzer Prize–winning biologist Edward O. Wilson grapples with these and other existential questions, examining what makes human beings supremely different from all other species. Searching for meaning in what Nietzsche once called "the rainbow colors" around the outer edges of knowledge and imagination, Wilson takes his readers on a journey, in the process bridging science and philosophy to create a twenty-first-century treatise on human existence—from our earliest inception to a provocative look at what the future of mankind portends.
Continuing his groundbreaking examination of our "Anthropocene Epoch," which he began with The Social Conquest of Earth, described by the New York Times as "a sweeping account of the human rise to domination of the biosphere," here Wilson posits that we, as a species, now know enough about the universe and ourselves that we can begin to approach questions about our place in the cosmos and the meaning of intelligent life in a systematic, indeed, in a testable way.
Once criticized for a purely mechanistic view of human life and an overreliance on genetic predetermination, Wilson presents in The Meaning of Human Existence his most expansive and advanced theories on the sovereignty of human life, recognizing that, even though the human and the spider evolved similarly, the poet's sonnet is wholly different from the spider's web. Whether attempting to explicate "The Riddle of the Human Species," "Free Will," or "Religion"; warning of "The Collapse of Biodiversity"; or even creating a plausible "Portrait of E.T.," Wilson does indeed believe that humanity holds a special position in the known universe.
The human epoch that began in biological evolution and passed into pre-, then recorded, history is now more than ever before in our hands. Yet alarmed that we are about to abandon natural selection by redesigning biology and human nature as we wish them, Wilson soberly concludes that advances in science and technology bring us our greatest moral dilemma since God stayed the hand of Abraham.
About the Author
---
Edward O. Wilson is the author of more than thirty books, including Anthill, a novel, and The Meaning of Human Existence, a finalist for the National Book Award. The winner of two Pulitzer Prizes, Wilson is a professor emeritus at Harvard University and lives with his wife, Irene, in Lexington, Massachusetts.
Praise For…
---
A valedictory work… What a lively writer Mr. Wilson can be. This two time winner of the Pulitzer Prize in nonfiction stands above the crowd of biology writers the way John le Carré stands above spy writers. He's wise, learned, wicked, vivid, oracular.
— Dwight Garner

In his typically elegant style, two-time Pulitzer Prize-winner Wilson (Letters to a Young Scientist) cannily and candidly probes the nature of human existence.


This illustrious book collects all 160 photographs of renowned abolitionist Frederick Douglass and astutely places Douglass's personal interest in photography into the context of his career and legacy…. This study provides a multifaceted, unique look at one of the most influential figures of American history.

This stunning volume presents 160 photographs, some for the first time, and they not only follow Douglass throughout his life but also place him within the times he lived…. Stauffer, Zoe Trodd, and Celeste-Marie Bernier point out that Douglass saw the truth-telling aspects of photography and how it could be used as a tool in the fight against slavery, as photos both humanized African Americans and revealed the horrors of their enslavement. This tour de force is a must-have that will enhance history and reference collections.
— Patricia Ann Owens

E. O. Wilson is Darwin's great successor, a scientist of such astounding breadth, depth, experience, and brilliance that he offers us nothing less than a new understanding of humanity… You will see the beauty, mystery, and possibilities of human existence through the eyes of one of humanity's greatest and most intrepid explorers.
— Jeffrey D. Sachs, Director of the Earth Institute at Columbia University

[A] tough-minded little primer-cum-manifesto… Compact and readable.
— Dan Cryer

There can be few better guides through our species' past journey and potential for the future… A provocative and beautifully written collection of essays.
— Tim Lenton

No biologist has been more persistent or eloquent in correcting our misapprehensions about human origins than Edward O. Wilson… We should be grateful that Wilson, so late in his illustrious career, still appeals to reason and imagination in hopes of enlightening us about our nature and inspiring us to change our destructive ways.
— Scott Russell Sanders

Wilson asks: Does humanity have a special place in the universe? Where are we going, and why? He answers by telling science's latest creation stories, and presenting a vision of the future both inspiring and plausible, not an easy feat to pull off… Wilson is both a wild-eyed optimist and a hard-nosed realist. What more can we ask of a prophet?
— John Horgan