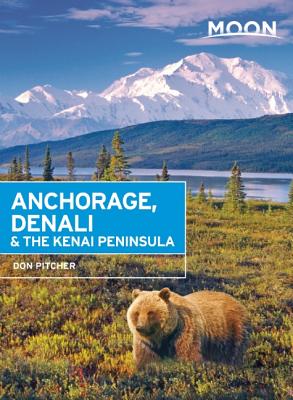 Description
---
Moon Travel Guides: Find Your Adventure!

Discover the rugged charms of The Last Frontier's mountains, glaciers, and rivers with Moon Anchorage, Denali & the Kenai Peninsula.
Inside you'll find:
Strategic itineraries for any timeline or budget, including five days in Anchorage, to a weekend in Denali National Park, and a two-week adventure exploring each region
Curated advice for outdoor adventurers, culture mavens, wildlife enthusiasts, budget travelers, and more
Must-see attractions and off-beat ideas for making the most of your trip: Embark on a day cruise to admire the stunning fjords, and watch brown bears catching wild salmon out of a river. Go snowboarding at a mountain resort, or hike through alpine forests. Dine on fresh king crab at the best restaurants in Anchorage, or catch your own halibut on a fishing expedition. Take an intrepid "flightseeing" tour to secluded glacier landings in Denali National Park, and discover the best spots to see the northern lights dance across the sky
Honest advice on when to go, how to get around, and where to stay, from local author and Alaska expert Don Pitcher
Full-color, vibrant photos and detailed maps throughout
Detailed, thorough information including background on the landscape, climate, wildlife, and local culture
With Moon Anchorage, Denali & the Kenai Peninsula's expert advice, myriad activities, and local insight on the best things to do and see, you can plan your trip your way.
Craving more of Alaska? Check out
Moon Alaska
. Expanding your trip? Try
Moon Vancouver & Canadian Rockies Road Trip
or
Moon Banff National Park
.
About the Author
---
Perhaps Don Pitcher's love of travel came about because he moved so much as a child; by age 15 he had lived in six states and two dozen East Coast and Midwestern towns. Don's family hails from Maine, but he was born in Atlanta, making him a southerner with New England blood. He moved west for college, receiving a master's degree from the University of California, Berkeley, where his thesis examined wildfires in the high elevation forests of Sequoia National Park. When his first (and only) scientific paper was published, he appeared to be headed into the world of ecological research.

Don then landed what seemed like the coolest job on the planet shortly after grad school: being flown around Alaska's massive Wrangell-St. Elias National Park in a helicopter while conducting fire research. Wild places continued to beckon, and over the next 15 years Don built backcountry trails, worked as a wilderness ranger, mapped grizzly bear habitats, and operated salmon weirs—anything to avoid an office job. After that first season in Alaska, he spent three months in the South Pacific, and quickly found himself addicted to travel. His explorations eventually took him to 35 countries and all 50 states.

After authoring his first book, Berkeley Inside/Out, Don went on to write Moon Yellowstone & Grand Teton, Moon Alaska, Moon Wyoming, Moon San Juan Islands, and Moon Anchorage, Denali & the Kenai Peninsula. He has produced three photographic books, served as editor for Best Places Alaska, and is a contributor to Triporati.com and other websites. Don's photos have appeared in a multitude of publications and advertisements, and his prints are sold in many Alaska and Washington galleries. He is also a highly regarded wedding photographer.

Don lives in Homer, Alaska, with his wife, Karen Shemet, and their children, Aziza and Rio. Get details on his latest writing and photography projects—along with links to many of the places mentioned in this book—at DonPitcher.com, or find him on Facebook.