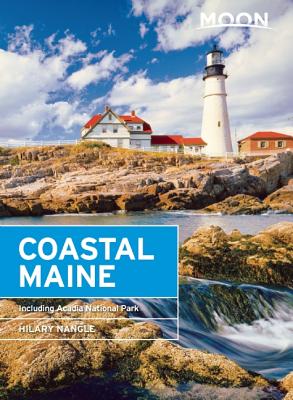 Description
---
Discover Coastal Maine with Moon Travel Guides!

Explore the best of Maine's spruce-studded islands, classic shoreline villages, and rugged character with Moon Coastal Maine.

Inside you'll find:
Strategic itineraries for any budget and timeline, from five days in Acadia to a two-week road trip
Curated advice for history buffs, foodies, beach-goers, outdoor adventurers, and more
Must-see attractions and off-beat ideas for making the most of your trip: Hike or bike through lush timberland forests, or take a lighthouse cruise down the Kennebec River. Sample wild blueberries, farmstead cheeses, and preserves from roadside farmers markets, find the best beachfront lobster shack, or mingle with locals over a "chowdah suppah." Discover maritime history in a traditional fishing village, or explore quaint, pedestrian-only island towns packed with hiking trails. Watch the boats sway in a quiet harbor, unwind on a sandy pocket beach, or immerse yourself in the secluded wilderness of Mount Desert Island and Acadia National Park
Honest insight from Maine native Hilary Nangle on when to go, where to eat, and where to stay, from historic inns to budget campgrounds
Full-color photos and detailed maps throughout
Recommendations for getting there and getting around by plane, car, train, or bus
Thorough background on the culture, environment, wildlife, and history
With Moon's local perspective, diverse activities, and expert tips on experiencing the best of Maine, you can plan your trip your way!
Eager to see the rest of the Pine Tree State? Try
Moon Maine
. Hitting the road? Try
Moon New England Road Trip.
About the Author
---
Despite brief out-of-state interludes for college, grad school, and a stint as a ski bum, Hilary Nangle has never been able to resist the lure of her home state. She grew up on Maine's coast, spending much of each winter skiing in the western mountains. Her sense of wanderlust was ignited when she became a whitewater-rafting guide on the Kennebec River, which gave her a chance to explore the central and northern regions of the state. When she tired of her parents asking when she was going to get a real job, she drew on her writing skills and began seeking editorial work. She started out editing professional ski tour publications, and then became a managing editor for a food trade publication and later a features editor for a daily newspaper. She currently works as a freelance writer and editor.

Hilary never tires of exploring Maine, always seeking out the offbeat and quirky, and rarely resisting the invitation of a back road. To her husband's dismay, she inherited her grandmother's shopping gene and can't pass a used bookstore, artisans gallery, or antiques shop without browsing. She's equally curious about food and has never met a lobster she didn't like. Hilary still divides her year between the coast and the mountains, residing with her husband, photographer Tom Nangle, and their oversized dog. Both share her passions for long walks and Maine-made ice cream. To follow Hilary's travels, visit mainetravelmaven.com.