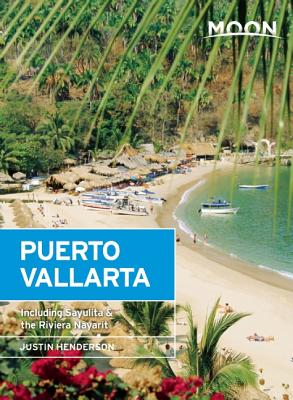 Description
---
Join author and longtime-resident Justin Henderson for an unforgettable experience. With unique perspective and advice you can trust, Moon Puerto Vallarta has everything you need to know to have a more personal and memorable experience.

Covering a lively resort scene, an inviting coastline, and tranquil beach-town getaways, Moon Puerto Vallarta tells you what you need to know to plan the perfect trip for you. Discover the sweetest retreats, from private hideaways to jugle lodges and luxury resorts while swimming, snorkeling, or just relaxing in the sand. Along with trip ideas like "A Perfect Day for Romance" and "Highlights of Gay Puerto Vallarta", Henderson includes tips finding the freshest, most delicious seafood, the most perfect beaches, and the top spots to see local wildlife.

With expertly crafted maps and gorgeous photos, this full-color guidebook gives you the tools you need to have an immersive and unique experience.

Moon Puerto Vallarta includes areas such as:

Puerto Vallarta

The Bay of Banderas

Sayulita and the Riviera Nayarit

Barra de Navidad and the Jalisco Coast

Find the Moon guide that best suits your trip!
Traveling in Mexico for longer? Try Moon Cancún & Cozumel, Moon Puerto Vallarta, Moon Tulum, Moon Mexico City, or Moon San Miguel de Allende.
About the Author
---
A native of Los Angeles, Justin Henderson spent much of his childhood and young adulthood surfing the California beaches. After his graduation from California State University, Northridge, his career took him to several locations across the country. He worked as an architectural journalist in New York City, and later moved to Seattle, where he worked as a freelance travel and design writer. It was in Seattle that he took up windsurfing, reviving his long-dormant surfing skills and his passion for the ocean. But the waters of the Pacific Northwest are cold, so Justin moved with his wife and daughter to Sayulita, 30 miles north of Puerto Vallarta. In his years living there, Justin learned to love Mexico even more than he did as a child when his family would vacation on Lake Chapala every summer.
Justin has written guidebooks on destinations ranging from Costa Rica to Los Angeles, as well as six murder mysteries featuring a travel writer and photographer which are set on Caribbean islands, in Costa Rica, and all over Mexico. Justin has returned to Seattle, where he lives with his family.